Test Zone
This is a list of all Karts from Crash Team Racing Nitro-Fueled.
Description
Karts are composed of a Kart Body, a set of Wheels and a Paint Job. Decals and Stickers are optional. Each kart model in Nitro-Fueled has an associated Kart Body, Paint Job and set of Wheels named after it, with the exception of the Classic and Cove Cruiser karts. The Hovercraft, Probulot 2000, Nitro Bumper and Turbo Sleigh do not use wheels.
Crash Team Racing-inspired Karts
Classic
The Classic is a basic kart, rimmed with gold or silver pipe-work that holds the body together and two large exhaust pipes. It is inspired by original kart from Crash Team Racing and is associated to all of the Basic-tier Paint Jobs, each representing one of the 15 original racers. Its main elements are unlocked by default
Hovercraft
The Hovercraft is a bright green colored hovering vehicle with chrome headlights and exhaust pipes. It is used by Nitros Oxide during his challenge in Adventure Mode and is unlocked by defeating him. It is inspired by the same hovercraft in Crash Team Racing
Crash Nitro Kart-inspired Karts
Team Bandicoot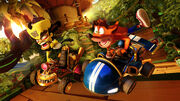 The Team Bandicoot is a kart inspired by the one used by Team Bandicoot in Crash Nitro Kart. It is also the default kart model shown in the Pit Stop for the purchase of individual kart elements.
Team Trance
Team Cortex
Team Oxide
Crash Tag Team Racing-inspired Karts
Cabrio
Crikey
Deadinator
Doom Buggy
Imperium
Roadster
Six-Pipes
Trikee
Le Chaux
Bandibuggy
Probulot 2000
Nostalginator
Skull Rider
Nautilus
Phantom
Pressurizer
Original Karts
Champion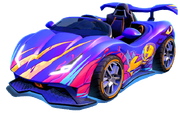 The Champion is a kart unlocked by finishing in the top 5% of either the Championship or Nitro online leaderboards at the end of a Grand Prix. It appears as a sportscar with a large wing on its back and a golden trophy on its licence plate. Each Grand Prix grants a different decal following its theme.
Rocket
Mammoth
Cove Cruiser
Spyromobile
Gnasty Ride
Dragonfly
Nitro Bumper
Daredevil
Community content is available under
CC-BY-SA
unless otherwise noted.