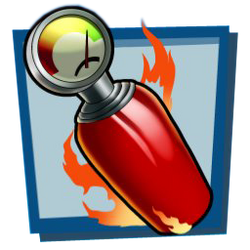 Turbos are items in Crash Team Racing, Crash Nitro Kart, and Crash Team Racing Nitro-Fueled. They give the player a burst of speed. Juiced up turbos give the player a bigger burst of speed.
They can technically be used as a weapon as using a Turbo directly behind an opposing racer will squash them, the only power-up with that capability.  Despite this, it is not possible to start Battle Mode with just the Turbo power-up selected.
Appearances
Gallery
See also
Crash Team Racing
Racers
Crash Bandicoot | Doctor Neo Cortex | Coco Bandicoot | Doctor N. Gin | Tiny Tiger | Dingodile | Polar | Pura | Doctor Nefarious Tropy | Fake Crash | Penta Penguin
Bosses
Ripper Roo | Papu Papu | Komodo Joe | Pinstripe Potoroo | Nitros Oxide
Supporting characters
Aku Aku | Uka Uka | Ami | Isabella | Liz | Megumi
Race tracks

N. Sanity Beach: Crash Cove, Roo's Tubes, Mystery Caves, Sewer Speedway
Gem Stone Valley: Slide Coliseum, Turbo Track, Gem Cups
The Lost Ruins: Coco Park, Tiger Temple, Papu's Pyramid, Dingo Canyon
Glacier Park: Blizzard Bluff, Dragon Mines, Polar Pass, Tiny Arena
Citadel City: N. Gin Labs, Cortex Castle, Hot Air Skyway, Oxide Station

Battle Arenas
Skull Rock | Rampage Ruins | Rocky Road | Nitro Court | The North Bowl | Parking Lot | Lab Basement
Collectibles
Trophies | Crystals | Gems | Relics | CTR Tokens | Keys
Power Ups
Missiles | Bowling Bombs | Warp Orbs | Power Shields | N. Tropy Clocks | N. Brio's Beakers | Turbos | Invisibility | Super Engines | Invincibility Masks (Aku Aku/Uka Uka)
Community content is available under
CC-BY-SA
unless otherwise noted.