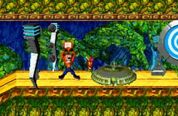 A
trading card
is a collectible item featured in
Crash Bandicoot Purple: Ripto's Rampage
and
Spyro Orange: The Cortex Conspiracy
. The cards are organized in 5 varieties, categorized by their card value (rarity). There are many ways to acquire trading cards. Some of them have to be bought from the card shop, while others can be found in various places throughout the game. Crash will also receive a trading card each time he defeats a boss.
In order to collect all of the cards, players must trade between Purple and Orange. When the games are connected via link cable, players can trade any card of their choice to another player. A special card is unlocked in both games if a trade is initiated between Purple and Orange.
Collectible Cards
Community content is available under
CC-BY-SA
unless otherwise noted.