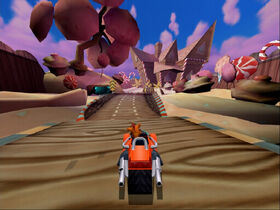 Track and the Beanstalk (カージャックとまめのき lit. Car Jack and the Beanstalk in Japanese) is the second race course in Von Clutch's Happily Ever Faster section and the fifth race track overall in Crash Tag Team Racing.
Layout
The track starts out running through the Hansel and Gretel tale and then through the beanstalk. A giant foot crushes anyone too close. Then, it proceeds through the Three Little Pigs and after that right across the finish line. There's a shortcut to the right from the moment the player is off the line.
Stage parameters
Crashinator:
Total: 40
Gold: 32
Silver: 25
Bronze: 20
Time Limit: 1:20.00
Fast Lap:
Gold: 1:04.00
Silver: 1:07.00
Bronze: 1:10.00
Rolling Thunder:
Gold: 20
Silver: 15
Bronze: 10
Run And Gun:
Total: 34
Gold: 26
Silver: 21
Bronze: 15
Walkthrough
Gallery
Trivia
The track's name is a pun on the fairy tale Jack and the Beanstalk.
This track parts has many references to Hansel & Gretel, My Little Pony, and Strawberry Shortcake.