Tiny Tiger (Japanese: タイニータイガー / Tainītaigā) (erroneously named Taz Tiger in the pause screen of the North American version of Crash Bandicoot 2: Cortex Strikes Back) is a Tasmanian tiger initially created by Doctor Nitrus Brio. He is often seen working for Doctor Neo Cortex, the main antagonist of the series. Before Crash of the Titans, Tiny was essentially the more rampaging, bestial counterpart to Koala Kong's self-infatuated muscleman disposition.
Tiny's intelligence in Crash of the Titans increased, giving the character a new personality. Out of all of Cortex's animal minions, Tiny makes the most appearances in the series, physically appearing in eleven games and vocally in one game over the course of eleven years, undergoing incredibly drastic changes in appearance in the later games.
History
Pre-series history
It was implied in at least two instruction manuals that Tiny was Doctor Cortex's first foray into genetic alteration. However, this conflicts with what was established by Naughty Dog, who confirmed that Ripper Roo was Cortex's first serious creation, with Tiny originally conceived by and serving N. Brio. It should be noted however that Tiny was conceived for the original game, where he almost certainly would have been established as a creation and servant of both Cortex and Brio. His character was omitted however and, like the Komodo Brothers, reimagined for the second game.
It's assumed that before his creation, he was a normal Thylacine.
Naughty Dog era
Crash Bandicoot 2: Cortex Strikes Back
Tiny made his debut in Crash Bandicoot 2: Cortex Strikes Back as the third boss of the game. Under the orders of Doctor Nitrus Brio, Tiny attempts to stop Crash from gathering Crystals by crushing him under his feet inside a space station. There is no floor in the room they fight in, but rather an endless chasm, with nine mechanical platforms set up in a three-by-three fashion to save both of them from falling to their doom. However, all of these platforms are faulty, eventually malfunctioning and deactivating. Crash uses this to his advantage, and tricks the gullible Tiny into jumping into the resulting gap that is created by these faulty platforms. Crash must repeat this strategy two more times to defeat Tiny. Every time Tiny falls with a platform, it returns up with him. As an often unseen detail, while Crash is already celebrating his victory with his own trademark dance, Tiny is actually returning up even after running out of hit points but appearing exhausted, lying on the platform which, in turn, after having brought up Tiny finally ends up falling beneath the tiger's weight. His theme song for this game can be found here.
Crash Bandicoot 3: Warped
In Crash Bandicoot 3: Warped, it is revealed that Tiny survived his previous fall. His, Cortex, and N. Gin's battle all took place in Cortex's space station, leaving ambiguity to his servitude in the previous game. Either way here, he serves under Uka Uka and Doctor Neo Cortex, attempting to take whatever crystals Crash and Coco have gathered and bringing them to Cortex in the Colosseum of Rome under his orders. Crash encounters Tiny in the Colosseum chained to two columns (a la Samson), which he snaps free from with ease. Tiny then proceeds to try and crush Crash under his feet, just as he did in their last encounter. When Tiny tries to impale Crash with his trident, the trident becomes stuck in the ground, leaving Tiny open for attack. Tiny then summons numerous lions to try and eat Crash. After this cycle is repeated two more times, Tiny is knocked out, Cortex giving a speech to Crash and Cortex afterwards said "Tiny was a good fellow. He hated everyone and everything, but a good heart nonetheless." and warning Crash to be more "reasonable" with his minions. His battle music can be found here.
Crash Team Racing
Tiny is a playable character in the Crash Team Racing, driving a Lime-colored, high-speed, low-control kart. He has a garage resembling a medieval dungeon, where he keeps his kart along with several stacks of crates, and likes to use it as an exercise room. Tiny has a comically easy time lifting, tossing, and even bending his enormous weights. His home track in the game is Tiny Arena. In the intro he attempts to "fix" his kart with a mallet only to smash it. Like Dingodile, Papu Papu and Doctor Nefarious Tropy, he excels in speed but is not good at turning.
Stats
Speed: 6/6

Acceleration: 1/4

Turning: 1/4

Difficulty: Advanced
Eurocom era
Crash Bash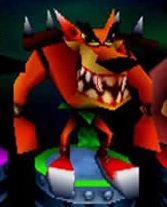 In Crash Bash, Tiny is summoned by Uka Uka to battle against Aku Aku's team (Crash and Coco), alongside Cortex, N. Brio, Dingodile, Koala Kong and Rilla Roo. However, he is switched over to Aku Aku's team along with Dingodile, as Uka Uka's team had too many players. His evil counterpart is Koala Kong.
In the Crate Crush levels, Tiny can kick other players or crates which is very short ranged, but he makes up for it with an excellent throwing distance. Because of his massive size, Tiny also moves quite slow.
In the Polar Push minigames, Tiny can give a powerful charge, whenever he charges into smaller players (like Crash) it is possible they will fly off the edge of the arena. Tiny's charging meter however, takes a short minute to fill up again.
In Ballistix, Tiny can deliver a double shockwave to deflect the balls.
In the Crash Dash levels, Tiny is much harder to be pushed around and can exert more force in his push.
In the Tank Wars levels, his shots are short-range, but deal a large amount of damage. In these levels, Tiny's weaponry are spiked cannon balls.
Traveller's Tales era
Crash Bandicoot: The Wrath of Cortex
In Crash Bandicoot: The Wrath of Cortex, after Bash, Tiny is an attendee in Uka Uka's bad guy convention, not speaking a single line in the entire game, besides growling noises. His sole action in the convention is attempting to clutch a hologram of Crash Bandicoot. He later serves as an obstacle in certain levels, literally standing in Crash's way in an attempt to hinder him, as well as operating various flying vehicles in levels involving planes or spaceships. His first in-game appearance was the second level in the first Warp Room, Tornado Alley, where he is one of the pilots firing at Crash to defend Cortex's generators, alongside N. Gin, N. Tropy, and Dingodile. He then was seen in Smokey and the Bandicoot as an enemy racer against Crash's jeep. Next, he appeared in Eskimo Roll, where he literally stands in Crash's way to hinder his progress, with Dingodile and N. Tropy shooting at the bandicoot with thjeir flamethrower and tuning fork, respectively. Later, Tiny appeared in the third level of the fourth Warp Room, Crashteroids, where he, N. Gin, N. Tropy, and Dingodile attempt to hinder Coco's progress of shooting down the three space stations assembled by Cortex by shooting at her with their own space shuttles. His next-to-last appearance in the game was the third level in the fifth warp room, Medieval Madness, where he plays the same roll as he did in Eskimo Roll. His final appearance in the game was the in fourth level of the sixth Warp Room, Solar Bowler, and as mentioned before, plays the same role as he did in Eskimo Roll and Medieval Madness, but only the Master of Time appears alongside him.
Crash Twinsanity
Tiny has a cameo in Crash Twinsanity during Crash's "birthday party" (a gathering of past Crash villains). His full model can be seen in the Concept Art.
Vicarious Visions era
Crash Bandicoot: The Huge Adventure
In Crash Bandicoot: The Huge Adventure, Tiny serves as the third boss the game. He once again dons his gladiator attire and fights Crash near a large waterfall. His fighting style here is much like that in Crash Bandicoot 3: Warped, leaving Crash to beat him into submission whenever his trident is stuck to a platform. He is later merged with Doctor Neo Cortex, Doctor N. Gin, and Dingodile and becomes Mega-Mix. After chasing Crash down a space station hall, Mega-Mix is left inside the space station, which explodes with the villains in it.
Crash Bandicoot 2: N-Tranced
Tiny makes a cameo as a playable character in the multiplayer atlasphere mode.
Crash Nitro Kart
Tiny is a playable character in Crash Nitro Kart, driving for Cortex's team in a high-speed, low-control kart. In the game's story, Tiny is seen playing checkers with himself and later attempts to assist Doctor N. Gin when the tower they're standing in is abducted. At the end of the "Team Cortex" side of the story, he assists Cortex in his power play against Velo, overpowering him as his master steals his sceptre, though it breaks in the scuffle, teleporting the team to Terra. After being seen holding Velo's symbol of power, Tiny gains the respect of the inhabitants (much to Cortex's annoyance).
Crash Bandicoot Purple: Ripto's Rampage
In Crash Bandicoot Purple: Ripto's Rampage, Tiny acts as the second boss, attempting to obliterate Crash in a frozen tundra with a tank, which Crash destroys. He is not seen for the rest of the game.
Crash Bandicoot N. Sane Trilogy
Tiny repeats his role as boss in the remaster of the second and third game.
Radical Entertainment era
Crash of the Titans
In Crash of the Titans, Tiny is seen in his new form when Cortex gave him protests regarding Cortex's replacement alongside Doctor N. Gin by commenting positively on Cortex's stationery. Tiny is the one in charge of the mining operations seen in Episodes 5 through 7, responsible for destroying a large portion of the jungle and obtaining minerals from the volcano for the purpose of gathering materials for the Doominator. When Crash confirms these operations, Tiny confronts Crash directly and voices his displeasure in both Crash's antics and the fact that he wasn't invited to Crash Tag Team Racing. He then orders his Titans to defeat Crash, promising the mutant who accomplishes this task half the day off on Tuesday. When Crash confronts Tiny with the Shellephant, Tiny decides to reveal the whereabouts of Crash's sister, who was kept in Doctor N. Gin's Weapons Factory at the time.
Crash: Mind Over Mutant
Although Tiny doesn't appear physically in Crash: Mind Over Mutant, his voice can be heard during the credits, in which he attempts to correct Crunch when he mixes up his metaphors.
Spin-Offs
Crash Boom Bang
Tiny has a cameo appearance in Crash Boom Bang, appearing in the "Silhouette Quiz" minigame.
Crash Bandicoot Nitro Kart 2
Tiny appears as a playable Character in this game. In the game, he drives Crash's Crikey car from CTTR and is given his old look again.
Appearances
Characteristics
Personality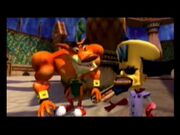 In his earlier appearances, Tiny was depicted to be a fierce but unintelligent creature. He is extremely loyal to Doctor Cortex, following his every whim without question and guarding him fiercely. To his master's annoyance, however, he contributes little in terms of intellect, usually dismissed and treated like a child. He is also somewhat clumsy, as demonstrated in Crash Nitro Kart, in which he flattens Dingodile while rushing to assist Doctor N. Gin. If something breaks, Tiny is the first to be blamed. Unlike Crash, who is somewhat smarter than him, Tiny is capable of speech, but often speaks in the third person, reflecting his low intelligence (Crash! Coco! Stole the pretty crystals! Tiny take them back in gladiator arena!). He can manage several vehicles and technical utilities competently however, having scuffled with the bandicoots not just toe to toe, but in tanks, dog fights and kart races.
Generally any enemy of Cortex is an enemy of Tiny. He shares his sadistic animosity towards Crash; whenever the time comes to fight him, he displays pleasure in trying to squash him. When fighting Crash, Tiny tends to be so fixated on destroying the bandicoot that he often distracts himself from other threats in the area, creating openings for Crash to get the upper hand. A statement made by Doctor Neo Cortex in Crash Bandicoot 3: Warped reveals that Tiny is not truly evil, but is only doing what he is told by Doctor Cortex because of being unintelligent and lack of ability to think for himself. Indeed, amongst the villain conventions, Tiny is often portrayed as docile and oblivious. Nevertheless, he is depicted as a megalomaniac, and believes that Crunch is a "soft-hearted copycat". In Crash Nitro Kart, the people of Terra see Tiny as a god. This is shown in Tiny Temple and in the final Team Cortex cutscene.
However, in Crash of the Titans, Tiny underwent drastic changes in both personality and intellect: his intelligence has increased to an average level above that of Crash. He is no longer a beastly monster who constantly bellows his desire to smash certain objects; rather, he is a considerate individual who continues to battle Crash due to his unhappiness with being just a bit character in the series. He has grown something of a liking to Crash Bandicoot, describing him as one point as "stupendous and fantabulous". While this incarnation of Tiny is considerably less evil than in the past, he is still willing to aid Neo Cortex in his time of need, specifically when the latter faces replacement in Crash of the Titans.
Physical appearance
Before Crash Twinsanity and Crash of the Titans, Tiny appeared to be an orange, muscular creature with sharp fangs and pointed claws. He was often seen wearing spiked shoulder pads, metal bracelets, a green leopard-spotted loincloth, and red sneakers. Due to the circumstances of the boss fight against him in Crash Bandicoot 3: Warped, his attire is updated to include a gladiator helmet, an armored left arm, two belts criss-crossing his torso, and a trident at hand. For an unexplained reason, Tiny also dons this attire in Crash Bandicoot: The Huge Adventure. For another unexplained reason, he does not have spiky shoulder pads in Crash Nitro Kart.
Tiny's species has varied over the years. The aforementioned erroneous name "Taz Tiger" suggests that he is a Thylacine (also known as a Tasmanian Tiger), although his behavior is very much that of a common tiger. In Crash Twinsanity, Tiny is deliberately redesigned to look like a Thylacine, where he had lighter fur, a smaller head and stripes on his back (due to oversight, his tail isn't part of his model). This was taken to the other extreme in Crash of the Titans when Tiny was redesigned again to resemble a feline tiger of unknown subspecies. Tiny is fully clothed in this redesign, donning an attire that resembles that of a U.S. Marine. According to the Nintendo DS version of Crash of the Titans, Tiny is 2 meters tall (6 feet, 7 inches) and weighs 90 kilograms (198.45 pounds), putting his body mass index at 22.5 (normal range).
Abilities
Tiny's most notable ability is his superhuman strength; this strength allows Tiny to rip through metal surfaces, break free from bondage without assistance and lift heavy objects. Despite his ridiculously skinny legs, Tiny is known for his incredible jumping prowess, as demonstrated in the boss battles against him. Tiny uses this power along with his heavy muscle mass to crush any of those unfortunate enough to be under him at the time. While Tiny doesn't fight Crash directly in Crash of the Titans, he is shown to still be capable of impressive strength, performing such feats as easily lifting Crash off the ground by the arm and sufficiently harming him with but a flick of a finger. In the Game Boy Advance version of the same game, Tiny is shown to be skilled in hand-to-hand combat, and can even shoot purple fireballs from his hands.
Quotes
"
Uka Uka and Cortex want Tiny get Crystals, and bring them to big coliseum in Rome. Crash! Leave them for Tiny, or Crash get CRUSHED!
"
 

— Tiny Tiger, Warped
"
Crash! Coco! Stole the pretty Crystals, Tiny take them back, in gladiator arena!
"
 

— Tiny Tiger, Warped
"
Here comes Tiny!
"
 

— Tiny Tiger, Crash Nitro Kart
"
Tiny win!
"
 

— Tiny Tiger, Crash Team Racing
Portrayals
In the Naughty Dog games, Tiny is voiced by Brendan O'Brien in the English versions (though Tiny doesn't actually speak until Crash Bandicoot 3: Warped), by Nathan Jones in the French versions, Luca Bottale in the Italian versions and by Fumihiko Tachiki in the Japanese versions. In Crash Bash, Tiny's voice consists of both samples of his roar in Crash Bandicoot 2: Cortex Strikes Back and Komodo Moe's laugh in the same game. In the English version of Crash Nitro Kart, Tiny is voiced by John DiMaggio, who would later go on to voice Uka Uka in the Radical Entertainment games. Masafumi Kimura, who would later voice Crunch Bandicoot in Crash Tag Team Racing, voices Tiny in the Japanese version of the game. As of Crash of the Titans, Chris Williams, who also voices Crunch Bandicoot in the same series, voices Tiny in the style of boxer Mike Tyson. In the Nintendo DS version of Crash of the Titans, Tiny is voiced by Nolan North, who also voices Doctor N. Gin in the same series. Jean-Jacques Morteau voices Tiny in the French versions of these games and Luca Sandri in the Italian versions. John DiMaggio reprised his role in the Crash Bandicoot N. Sane Trilogy.
Gallery
See: Tiny Tiger/Gallery
Trivia
He has a cameo in Skylanders: Imaginators as a statue during a musical minigame, along with Dingodile.
Tiny was designed during development of the first game, and thus he appears in the scrapped cartoon cutscenes. He shares this with the Komodo Brothers and N.Gin.
In Crash Bandicoot 2: Cortex Strikes Back, in the review copy and NTSC-U version of the game, when in his boss fight, in the pause menu his name is "Taz Tiger", which was Tiny's early name.

In other lyric sheets for the cartoon cutscenes, Tiny is mentioned as "Tazmanian Tiger".

In the Crash Bash manual, there's a picture of Tiny Tiger holding what appears to be a Nitro Crate, but seeing as it lacks the word Nitro on it, this is unlikely.
In Crash Bandicoot: The Huge Adventure, Tiny had Dingodile's theme, Dingodile had N. Gin's theme, and N. Gin had Tiny's theme.
Despite his enormous size, in CTR he is only the third largest character on the track, first and second being Nitros Oxide and Papu Papu respectively. However, Tiny is still the second largest character on the podiums. The only reason Nitros Oxide appears the largest on the track is because he and his hovercraft have been largely over-sized.
Tiny, along with Dingodile, Polar, Pura, Fake Crash, and Doctor Nefarious Tropy, are the only returning characters of Crash Team Racing and Crash Nitro Kart that didn't return racing in Crash Tag Team Racing; Tiny points out in Crash of the Titans that he is still mad about not being invited to that game.
Since Tiny was created by and worked for Doctor Nitrus Brio in Crash Bandicoot 2: Cortex Strikes Back, it's unknown why he works for Cortex in his later appearances. The fact that his boss lair in Cortex Strikes Back is seemingly built inside Cortex's space station only further confounds things. However, it is possible that he ended up serving Neo Cortex due to N. Brio's absence after the second game.
In Crash of the Titans, Tiny said that he's "still mad about the last game" in which he did not appear, referring to Crash Tag Team Racing. However, Crash Boom Bang! was the last game to be released before Crash of the Titans, in which Tiny DID make an appearance, though Crash Boom Bang! is seemingly non-canon to the original series.
Tiny appears to be a Siberian or Bengal Tiger starting from Crash of the Titans.
He seems to be learning how to speak in the previous games, although by Crash of the Titans, he can speak perfectly.
In Crash of the Titans, Tiny seems to be more practical than he was in the previous games, as he isn't obsessed with beating Crash as much as he used to be, and doesn't wear his loin cloth.
In ironic contrast with his name, Tiny is actually not very tiny at all. This is a common gag within the cartoons and movies involving gangs that have large muscular or burly guards, the name is used to trick the protagonist and act overly cocky before the character finally reveals themselves.
Tiny is one of the very few characters who have blatantly broken the fourth wall in the series. This trait is also seen with Pasadena, Coco, Dr. Cortex, Ebenezer Von Clutch, and a generic enemy type in Crash of the Titans.
His appearance in Crash of the Titans has received the most negative reception with fans.
Because of his earlier appearances in the franchise, many fans confused Tiny as a lion or either thought it contradicting to why he got his name as such he in no way resembles a Tiger. This is because in the Crash games before the mutant genera remodeling, all the Crash characters were modeled after real Australian native animals, and Tiny was made to resemble the Thylacine; an extinct marsupial nicknamed the Tasmanian Tiger. However, not many people really knew what this type of animal was and, by the time of the games release, Thylacines had long been extinct. To avoid confusion in the newer games, the character was remodeled to look like an actual tiger, even though this was a drastic change from the original design.
Tiny Tiger is seemingly more intelligent than his spiritual predecessor Koala Kong, because he unlike Kong, is capable of speech. He was also shown in CNK to play checkers against himself.
By the time of Cortex's and N. Brio's action to plunder the world, Thylacines were long since extinct with the last one (Benjamin) dying 60 years ago (1936), so it's specifically unknown how N. Brio was able to create Tiny in the first place.

However, since Mammoths appear in Wrath of Cortex, it's possible that Thylacines are not extinct in the Crash Banicoot universe.

Because with the uncertain sightings and whether the Thylacine survived extinction, Tiny is the first ever and only cryptid character to appear in the Crash games. He is also the only animal character to have an endangered species.
Ironically, despite originally working for N. Brio, Tiny is among the very few minions to stay consistently loyal to Cortex since first serving him, having never betrayed him by his own free will (he was forcibly made to work for opposing fractions in Crash Bash and Crash Of The Titans however). Certain official statements in fact refer to him as Cortex's most loyal minion.
In Crash Bandicoot 2: Cortex Strikes Back, it's unknown why he has his boss arena in the Cortex Vortex while he's said to work for N. Brio at that time.
Tiny's quote "Heereee's Tiny!!!" from CNK is an allusion to the quote "Heereee's Johnny!" from the movie The Shining.
Crash Bandicoot 2: Cortex Strikes Back
Protagonists
Crash Bandicoot • Aku Aku • Coco Bandicoot • Doctor Nitrus Brio • Polar
Bosses
Ripper Roo • Komodo Brothers • Tiny Tiger • Doctor N. Gin • Doctor Neo Cortex
Items
Crates (Basic Crate, ? Crate, Bounce Crate, Aku Aku Crate, Checkpoint Crate, Crash Crate, Arrow Crate, Locked Crate, TNT Crate, Nitro Crate, Nitro Switch Crate, ! Crate, Iron Crate, Iron Arrow Crate) • Wumpa Fruit • Crystal • Gem
Levels
Intro, First Warp Room (Turtle Woods, Snow Go, Hang Eight, The Pits, Crash Dash) • Second Warp Room (Snow Biz, Air Crash, Bear It, Crash Crush, The Eel Deal) • Third Warp Room (Plant Food, Sewer or Later, Bear Down, Road to Ruin, Un-Bearable) • Fourth Warp Room (Hangin' Out, Diggin' It, Cold Hard Crash, Ruination, Bee-Having) • Fifth Warp Room (Piston It Away, Rock It, Night Fight, Pack Attack, Spaced Out) • Sixth Warp Room (Totally Bear, Totally Fly)
Enemies
Armadillo • Bee • Cyborg Clamidosaur • Echidna • Electric Eel • Gorilla • Lab Assistant • Lizard • Mechanical Piranha • Mole • Monkey • Orca • Penguin • Polar Bear • Possum • Rat • Robot Walker • Scrubbing Bubbletron • Seal • Sparky Tentaclebot Unit • Spike Rat • Spiked Saucer • Spitter Plant • Tiki • Turtle • Venus Fly Trap
Crash Bandicoot 3: Warped
Protagonists
Crash Bandicoot | Aku Aku | Coco Bandicoot | Pura | Penta Penguin | Baby T | Polar | Fake Crash
Bosses
Tiny Tiger | Dingodile | Doctor Nefarious Tropy | Doctor N. Gin | Doctor Neo Cortex | Uka Uka
Items
Crates | Wumpa Fruit | Crystals | Gems | Relics
Levels
First Chamber (Toad Village, Under Pressure, Orient Express, Bone Yard, Makin' Waves) | Second Chamber (Gee Wiz, Hang'em High, Hog Ride, Tomb Time, Midnight Run) | Third Chamber (Dino Might!, Deep Trouble, High Time, Road Crash, Double Header) | Fourth Chamber (Sphynxinator, Bye Bye Blimps, Tell No Tales, Future Frenzy, Tomb Wader) | Fifth Chamber (Gone Tomorrow, Orange Asphalt, Flaming Passion, Mad Bombers, Bug Lite) | Sixth Chamber (Ski Crazed, Area 51?, Rings of Power) | Secret Levels (Hot Coco, Eggipus Rex)
Enemies
Bandifish | Beetle | Snake | Arsonist | Crocodile | Eel | Goat | Lab Assistant | Monkey | Pufferfish | Scorpion | Seagull | Shark | Triceratops | Pterodactyl | Wave Lab Assistant | Double-Headed Lab Assistant | Wizard Lab Assistant | Frog
Crash Team Racing
Racers
Crash Bandicoot | Doctor Neo Cortex | Coco Bandicoot | Doctor N. Gin | Tiny Tiger | Dingodile | Polar | Pura | Doctor Nefarious Tropy | Fake Crash | Penta Penguin
Bosses
Ripper Roo | Papu Papu | Komodo Joe | Pinstripe Potoroo | Nitros Oxide
Supporting characters
Aku Aku | Uka Uka | Ami | Isabella | Liz | Megumi
Race tracks
N. Sanity Beach (Crash Cove, Roo's Tubes, Mystery Caves, Sewer Speedway) The Lost Ruins (Coco Park, Tiger Temple, Papu's Pyramid, Dingo Canyon) Glacier Park (Blizzard Bluff, Dragon Mines, Polar Pass, Tiny Arena) Citadel City (N. Gin Labs, Cortex Castle, Hot Air Skyway, Oxide Station) Gem Stone Valley (Slide Coliseum, Turbo Track)
Battle Arenas
Skull Rock | Rampage Ruins | Rocky Road | Nitro Court | The North Bowl | Parking Lot | Lab Basement
Items
Trophies | Crystals | Gems | Relics | CTR Tokens | Keys
Power Ups
Missiles | Bowling Bombs | Warp Orbs | Power Shields | N. Tropy Clocks | N. Brio's Beakers | Turbos | Invisibility | Super Engines | Aku Aku/Uka Uka Masks
Crash Bash
Good
Aku Aku | Crash Bandicoot | Coco Bandicoot | Tiny Tiger | Dingodile
Evil
Uka Uka | Doctor Neo Cortex | Doctor Nitrus Brio | Koala Kong | Rilla Roo
Others
Doctor N. Gin | Ripper Roo | Fake Crash
Items
Anvil | Arrow | Balloon | Block | Bomb | Crystal | Electro Stun Beam | Force Field | Gem | Gold Relic | Homing Energy Orb | Hover Boots | Jewel | Lightning | Locked Crate | Mine | Missile | Mushroom | Nitro Crate | Padlock | Platinum Relic | Pogo Stick | Powder Keg | Purple ? and ! crate | Shock Wave | Sonic Ring | Speedy Boots | TNT Crate | Trophy | Vacuum Cleaner | Wumpa Fruit | Z
Minigames
Crate Crush (Jungle Bash, Space Bash, Snow Bash, Drain Bash, Tie Breaker) Polar Push (Polar Panic, Tilt Panic, Melt Panic, Manic Panic) Ballistix (Crashball, Beach Ball, N. Ballism, Sky Balls) Pogo Pandemonium (Pogo Painter, Pogo-a-Gogo, El Pogo Loco, Pogo Padlock, cut minigame) Tank Wars (Desert Fox, Metal Fox, Jungle Fox, Swamp Fox) Crash Dash (Dot Dash, Toxic Dash, Dante's Dash, Splash Dash) Medieval Mayhem (Ring Ding, Dragon Drop, Mallet Mash, Keg Kaboom)
Bosses
Papu Pummel (Papu Papu) | Bearminator (Bearminator) | Big Bad Fox (Komodo Brothers) | Oxide Ride (Nitros Oxide)
Crash Bandicoot: The Wrath of Cortex
Protagonists
Crash Bandicoot • Aku Aku • Coco Bandicoot • Pura
Antagonists
Doctor Neo Cortex • Crunch Bandicoot • The Elementals (Rok-Ko • Wa-Wa • Py-Ro • Lo-Lo) • Uka Uka • Doctor Nefarious Tropy • Doctor N. Gin • Tiny Tiger • Dingodile
Items
Crates (Basic Crate, ? Crate, ! Crate, Activation Crate, Outline Crate, Crash Crate, Locked Crate, Invisibility Crate, Iron Crate, Iron Arrow Crate, Checkpoint Crate, Arrow Crate, Nitro Crate, Nitro Switch Crate, TNT Crate) • Wumpa Fruit • Crystal • Gem • Relic
Super Powers
Tip Toe • Double Jump • Death Tornado Spin • Fruit Bazooka • Crash Dash (Super Power) • Super Belly Flop
Levels
First Chamber (Arctic Antics, Tornado Alley, Bamboozled, Wizards and Lizards, Compactor Reactor) • Second Chamber (Jungle Rumble, Sea Shell Shenanigans, Banzai Bonsai, That Sinking Feeling, H2 Oh No) • Third Chamber (The Gauntlet, Tsunami, Smokey and the Bandicoot, Eskimo Roll, Fahrenheit Frenzy) • Fourth Chamber (Avalanche, Droid Void, Crashteroids, Coral Canyon, Weathering Heights) • Fifth Chamber (Crash and Burn, Gold Rush, Medieval Madness, Crate Balls of Fire, Cortex Vortex) • Boss Levels (Rumble in the Roks, Drain Damage, Crashes to Ashes, Atmospheric Pressure, Crunch Time) • Sixth Chamber (Knight Time, Ghost Town, Ice Station Bandicoot, Solar Bowler, Force of Nature) • Cut levels (Cut Chinese harbour level, Tsunami, Cut Glider level, Cut oriental level, Fire Island)
Enemies
Seal • Penguin • Narwhale • Lab Assistant • Bat • Lionfish • Anglerfish • Koi Fish • Crane • Salmon • Monkey • Parrot • Crab • Donkey • Inflating Cactus • Scorpion • Knight Lab Assistant • Ninja Lab Assistant • Skiing Lab Assistant • Gold Miners
Crash Bandicoot: The Huge Adventure
Protagonists
Crash Bandicoot | Aku Aku | Coco Bandicoot
Bosses
Dingodile | Doctor N. Gin | Tiny Tiger | Doctor Neo Cortex | Uka Uka | Mega-Mix
Items
Crates | Wumpa Fruit | Crystals | Gems
Levels
First Chamber (Jungle Jam, Shipwrecked, Temple of Boom, Frostbite Cavern, Just in Slime) | Second Chamber (Snow Crash, Rocket Racket, Just Hangin', Shark Attack, Ruined) | Third Chamber (Snow Job, Ace of Space, Sunken City, Down the Hole, Blimp Bonanza) | Fourth Chamber (Star to Finish, Air Supply, No-Fly Zone, Drip, Drip, Drip, Final Countdown)
Enemies
Electric Eel | Frog | Jellyfish | Lab Assistant | Moray Eel | Penguin | Polar Bear | Pufferfish | Rat | Scrubbing Bubbletron | Seal | Shark | Sparky Tentaclebot Unit | Spike Lizard | Squid | Steam-Powered Hover-Spike-O-Tron | Venus Fly Trap | Yeti
Crash Bandicoot 2: N-Tranced
Protagonists
Crash Bandicoot | Aku Aku | Coco Bandicoot | Crunch Bandicoot | Fake Crash
Antagonists
Doctor Nefarious Tropy | N. Trance | Uka Uka | Evil Crunch | Evil Coco
Items
Crates | Wumpa Fruit | Crystals | Gems | Gem Shards | Super Slide | Rocket Jump | Death Tornado Spin | Crash Dash
Levels
First Chamber (Island Intro, Prints of Persia, Lagoony Tunes, Globe Trottin', Pharaoh's Funhouse, Runaway Rug) | Second Chamber (Tiki Torture, Hoppin' Coffins, Barrel Roll, Flockful of Seagulls, Magma Mania) | Third Chamber (Run from the Sun, Now It's Istanbul, Mister Lava Lava, Water Logged, Slip-N-Slidin' Sphinx) | Fourth Chamber (Rocks Can Roll, Rock the Casaba, Eruption Disruption, Spaced Out, King Too Uncommon) | Fifth Chamber (Wild Nile Ride, 101 Arabian Kites, Fire Walker)
Enemies
Arsonist | Beetle |Crocodile | Lab Assistant | Monkey | Scorpion | Seagull | Shark | Snake
Crash Nitro Kart
Racers
Team Bandicoot (Crash Bandicoot, Coco Bandicoot, Crunch Bandicoot, Fake Crash) | Team Cortex (Doctor Neo Cortex, Doctor N. Gin, Tiny Tiger, Doctor Nefarious Tropy) | Team Oxide (Nitros Oxide, Zem, Zam, Velo) | Team Trance (N. Trance, Polar, Dingodile, Pura) | GBA Only (Krunk, Nash, Norm, Geary, Spyro the Dragon) | Removed: (Nina, Doctor Nitrus Brio, Rilla Roo, Komodo Brothers, Ripper Roo)
Bosses
Krunk | Nash | Norm | Geary | Emperor Velo XXVII
Supporting characters
Aku Aku | Uka Uka
Race tracks
Terra (Inferno Island, Jungle Boogie, Tiny Temple) | Barin (Meteor Gorge, Barin Ruins, Deep Sea Driving (Crash Nitro Kart)) | Fenomena (Out of Time, Clockwork Wumpa, Thunder Struck) | Teknee (Assembly Lane, Android Alley, Electron Avenue) | Velo's Vault (Gem Cups, Hyper Spaceway)
Battle Arenas
Temple Turmoil | Frozen Frenzy | Desert Storm | Magnetic Mayhem | Terra Drome
Items
Wumpa Fruit | ? Crates | Trophies | Crystals | Gems | Relics | CNK Tokens | Keys
Power Ups
Missiles | Bowling Bombs | TNT Crates | Static Orbs | N. Tropy Clocks | Turbo | Ice Mines | Power Shields | Aku Aku/Uka Uka/Velo Masks | Tornado Tops |Invisibility | Super Engines | Red Eye Missiles | Removed: Voodoo Doll
Crash Twinsanity
Protagonists
Crash Bandicoot | Doctor Neo Cortex | Aku Aku | Nina Cortex
Minor Characters
Nitros Oxide | Polar | Crunch Bandicoot | Doctor N. Gin | Doctor Nitrus Brio | Doctor Nefarious Tropy | Ripper Roo | Tiny Tiger | Farmer Ernest | Evil Crash | Pinstripe Potoroo | Koala Kong | Papu Papu | Rusty Walrus | Cortex's mother | Spyro the Dragon | Mecha-Bandicoot | Coco Bandicoot | Removed: Evil Coco | Good Cortex | Capu Capu | Evil Capu Capu | Fake Crash | Komodo Brothers | N. Trance |
Bosses
Doctor Neo Cortex | Mecha-Bandicoot | Tikimon | Uka Uka | Doctor N. Gin | Doctor Nefarious Tropy | Doctor Nitrus Brio | Dingodile | Madame Amberly | Evil Twins | Removed: | Ant Leader | Rusty Walrus
Items
Crates (Cortex Crate - Crash Crate - Nina Crate - Bounce Crate - Basic Crate - ? Crate - Locked Crate - Iron Crate - Iron Arrow Crate - Arrow Crate - Ammo Crate - Nitro Switch Crate - Nitro Crate - TNT Crate - Checkpoint Crate - World Crate - Aku Aku Crate - Uka Uka Crate - Detonator Crate - Activation Crate - Outline Crate) - Wumpa Fruit - Crystal - Gem - Weak platforms - Sequence platforms Removed: Relic
Levels
N. Sanity Island (Jungle Bungle, Cavern Catastrophe, Totem Hokum) | Iceberg Lab (Ice Climb, Slip Slide Icecapades, High Seas Hi-Jinks) | Academy of Evil (Boiler Room Doom, Classroom Chaos, Rooftop Rampage) | Twinsanity Island (Rockslide Rumble, Bandicoot Pursuit, Ant Agony) | Removed: Gone a Bit Coco, Megalomaniac Mind Mania, Harbor level, Uka Tree level, Lava Caves, Rehab Lab, Security Insanity, Cut Rollerbrawl level, | Train Express | 9th Dimension | 11th Dimension | Canyon Level | Wumpa Island | Komodo Bros. Race | Space Dimension | Temple Level | Ocean Dimension (Coco sub level, Ocean Commotion ) Cut UFO level | Cut Ant lab level | Cut Sport level
Enemies
Crab | Chicken | Tikimon's Minions | Monkey | Skunk | Venus Fly Trap | Worm | Ant | Rat | Bees | Bear | Tribesman | Hog | Bat | Penguin | Hologram Probe | Barrel Throwing Rhino | Guard Dog | Hall Monitor | Robot Dummy | Robotic Janitor | Experimental Frog | Beetle | Gargolye | Removed: Ant Pet | Flying Swordfish | Greyscale Ant | Pink Elephant | Flowers | Teddy Bear | Robots | Pigs | Turtles | Solid Rock Bee | Walking fly trap | Fire-Breathing Creature | Striped Snake | Lab Assistant | Twin Tech Robotic Snake | Lion | Ostrich | Snake Pirates | Pirate Platypus | Piranhas | Sharks | Sea Monster
Crash Bandicoot N. Sane Trilogy
Protagonists
Crash Bandicoot | Aku Aku | Tawna | Coco Bandicoot | Fake Crash | Polar | Pura | Penta Penguin | Baby T | Doctor Nitrus Brio (Crash 2 only)
Levels
Crash Bandicoot
N. Sanity Island: N. Sanity Beach • Jungle Rollers • The Great Gate • Boulders • Upstream • Rolling Stones • Hog Wild • Native Fortress


Wumpa Island: Up the Creek • The Lost City • Temple Ruins • Road to Nowhere • Boulder Dash • Whole Hog • Sunset Vista
Cortex Island: Heavy Machinery • Cortex Power • Generator Room • Toxic Waste • The High Road • Slippery Climb • Lights Out • Fumbling in the Dark • Jaws of Darkness • Castle Machinery • The Lab • The Great Hall
DLC: Stormy Ascent

Cortex Strikes Back
Intro


First Warp Room: Turtle Woods, Snow Go, Hang Eight, The Pits, Crash Dash
Second Warp Room: Snow Biz, Air Crash, Bear It, Crash Crush, The Eel Deal
Third Warp Room: Plant Food, Sewer or Later, Bear Down, Road to Ruin, Un-Bearable
Fourth Warp Room: Hangin' Out, Diggin' It, Cold Hard Crash, Ruination, Bee-Having
Fifth Warp Room: Piston It Away, Rock It, Night Fight, Pack Attack, Spaced Out
Sixth Warp Room: Totally Bear, Totally Fly

Warped
First Chamber: Toad Village, Under Pressure, Orient Express, Bone Yard, Makin' Waves


Second Chamber: Gee Wiz, Hang'em High, Hog Ride, Tomb Time, Midnight Run
Third Chamber: Dino Might!, Deep Trouble, High Time, Road Crash, Double Header
Fourth Chamber: Sphynxinator, Bye Bye Blimps, Tell No Tales, Future Frenzy, Tomb Wader
Fifth Chamber: Gone Tomorrow, Orange Asphalt, Flaming Passion, Mad Bombers, Bug Lite
Sixth Chamber: Ski Crazed, Area 51?, Rings of Power
Secret Levels: Hot Coco, Eggipus Rex
Seventh Chamber (DLC): Future Tense

Items
Crates (Basic Crate • Aku Aku Crate • Bounce Crate • Arrow Crate • ? Crate • Time Crate • ! Crate • TNT Crate • Big TNT Crate • Crash Crate • Checkpoint Crate • Iron Crate • Iron Arrow Crate • Nitro Crate • Nitro Switch Crate • Locked Crate • Slot Crate • Iron Checkpoint Crate) | Wumpa Fruit | Gem | Key | Relic | Crystal
Enemies
Crab | Turtle | Skunk | Venus Fly Trap | Monkey | Tribesman | Flying Fish | Bat | Snake | Spider | Hog | Holo-Projector | Crawling | Spiked Saucer | Machine Gunner | Barrel Thrower | Evil Hand | Lab Assistant | Beaker-Throwing Lab Assistant | Rat | Blob | Electric Lab Assistant | Armadillo | Echidna | Penguin | Seal | Mechanical Piranha | Orca | Electric Eel | Scrubbing Bubbletron | Spike Rat | Sewer Worker Lab Assistant | Parka Lab Assistant | Cyborg Clamidosaur | Gorilla | Possum | Hunter Lab Assistant | Polar Bear | Bee | Sledgehammer Lab Assistant | Spitter Plant | Tiki | Barricading Lab Assistant | Robot Walker | Sparky Tentaclebot Unit | Frog | Goat | Knight Lab Assistant | Moray Eel | Pufferfish | Shark | Pterodactyl | Triceratops | Wave Lab Assistant | Seagull | Wizard Lab Assistant | Scorpion | Crocodile | Bandifish | Arsonist | Double-Headed Lab Assistant | Beetle
Bosses
Papu Papu | Ripper Roo | Koala Kong | Pinstripe Potoroo | Doctor Nitrus Brio (Crash 1 only) | Doctor Neo Cortex | Komodo Brothers | Tiny Tiger | Doctor N. Gin | Dingodile | Doctor Nefarious Tropy | Uka Uka