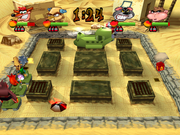 Tank Wars is a minigame genre in Crash Bash. The player takes control of a tank and battles with opponents. There are four Tank Wars minigames: Desert Fox, Metal Fox, Jungle Fox and Swamp Fox. The boss fight with the Komodo Brothers, Big Bad Fox, is a Tank Wars variant too.
Wumpa fruit restores the player's health. The player can also collect mines and plant them on the ground. The mines have a large damage radius and take away most of the player's health if they get caught in it when they detonate. In certain levels, the player can also collect regular bombs which, unlike the player's regular attack, fly over boundaries and can hit far away players. In Big Bad Fox, missiles are used to defeat the Komodo Brothers.
In battle and tournament modes, the Tank Wars minigames are not available from the beginning, and can be unlocked when a player unlocks them in adventure mode. Every tank wars minigame ends with the word 'fox'.
Character Cannons
Gallery