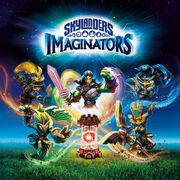 Skylanders: Imaginators is a toys-to-life action 3D platformer video game developed by Toys for Bob and published by Activision. A successor to Skylanders: SuperChargers, it was released for PlayStation 4, Wii U, Xbox 360, PlayStation 3, Xbox One and Nintendo Switch. For the first time in the series, players can create their own characters, known as Imaginators.
Relevance to Crash Bandicoot
Both Crash Bandicoot and Neo Cortex appear as guest characters and Crash has his own level, called Thumpin' Wumpa Islands. This level has iconic gameplay features present in previous Crash Bandicoot games.[7]
Crash Bandicoot Characters
Playable
Supporting
Cameos
Background
In June 2016, Sony revealed that Crash would be a new guest character in the game. His level and character include designs were created by veteran Crash Bandicoot and Skylanders developer, Vicarious Visions. To create an accurate version of Crash, the team studied old documents of the old games, including the original concepts. As Crash has his own physical figure, the team went through multiple design iterations to ensure that they had successfully captured his personality, and that his final pose and appearance are cohesive with his original appearance. The team began animating Crash after finishing up the model, with the goal of ensuring that Crash's "edginess, trademark wackiness, and swagger" are preserved. To capture Crash's legacy, the team specifically created a new life system, spin attack mechanic for it, and numerous crates for his level.[14] Imaginators marked the first major appearance of Crash in several years; though he had a cameo appearance in Uncharted 4: A Thief's End, the last game in which he was the main character was 2010's Crash Bandicoot Nitro Kart 2.[15] In August 2016, at Gamescom, it was announced the game would also feature Crash Bandicoot series antagonist Doctor Neo Cortex as a playable character, along with an additional level featuring gameplay and design elements derived from the Crash series.[7]
See Also
Gallery
Promotional Material
In-Game
Concept Art