Skull Rock (コルテックスの おおいわ lit. Cortex's Boulder in Japanese) is the first battle arena in Crash Team Racing as well as Crash Team Racing Nitro-Fueled and is the N. Sanity Beach battle arena. The most distinguishing feature of this arena is a giant skull statue in the center of the arena which resembles a very similar feature in Makin' Waves. This is probably the only feature that makes this arena visually different from Crash Cove. Also, it has a small island with high cliff walls acting as barriers around most of the island to avoid the illusion of an invisible wall between the player and water surrounding the island. Apart from this, the arena features a bridge which travels through the center skull rock, which can be traveled through itself at ground level. The arena is generally symmetrical except for one corner enclosed by cliff walls and a small hill on one side of the skull rock. A few palm trees are placed around the edge of the arena, and possibly a few totems as well. This arena is placed adjacent to the N. Sanity Beach trophy podium.
Number of crystals: 20
Time limit: 1:23:00
Number of Wumpa crates: 3
Number of weapon crates: 4
Walkthrough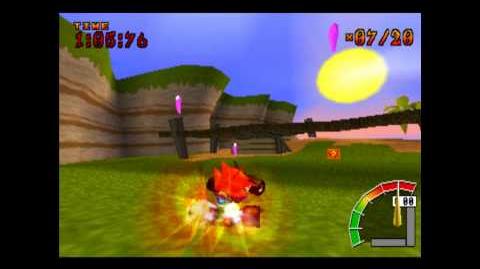 Gallery
Trivia
This is the only arena that does not include TNT or Nitro Crates during the crystal challenge.
A missile glitch is achievable in the multiplayer battle mode in this arena. When a missile is launched at a certain angle and locks onto a player beneath the bridge, the missile(s) will circle until it hits another player or an obstacle.
Crash Team Racing
Racers
Crash Bandicoot | Doctor Neo Cortex | Coco Bandicoot | Doctor N. Gin | Tiny Tiger | Dingodile | Polar | Pura | Doctor Nefarious Tropy | Fake Crash | Penta Penguin
Bosses
Ripper Roo | Papu Papu | Komodo Joe | Pinstripe Potoroo | Nitros Oxide
Supporting characters
Aku Aku | Uka Uka | Ami | Isabella | Liz | Megumi
Race tracks

N. Sanity Beach: Crash Cove, Roo's Tubes, Mystery Caves, Sewer Speedway
Gem Stone Valley: Slide Coliseum, Turbo Track, Gem Cups
The Lost Ruins: Coco Park, Tiger Temple, Papu's Pyramid, Dingo Canyon
Glacier Park: Blizzard Bluff, Dragon Mines, Polar Pass, Tiny Arena
Citadel City: N. Gin Labs, Cortex Castle, Hot Air Skyway, Oxide Station

Battle Arenas
Skull Rock | Rampage Ruins | Rocky Road | Nitro Court | The North Bowl | Parking Lot | Lab Basement
Collectibles
Trophies | Crystals | Gems | Relics | CTR Tokens | Keys
Power Ups
Missiles | Bowling Bombs | Warp Orbs | Power Shields | N. Tropy Clocks | N. Brio's Beakers | Turbos | Invisibility | Super Engines | Invincibility Masks (Aku Aku/Uka Uka)
Community content is available under
CC-BY-SA
unless otherwise noted.