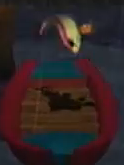 Salmon
are enemies in
Crash Bandicoot: The Wrath of Cortex
that appear in the levels,
H2 Oh No
and
Tsunami
. Their role in H2 Oh No has them appearing in the area with the level's bonus platform, wobbling on the boardwalk. There are only two in the whole level, and if the player loses, they will change colors when the player comes to that area again.
They first appear in Tsunami when Coco reaches the river. There, one is seen jumping on a boat. They are not seen again in this level until the gem route, where they are wobbling on platforms and boats. These fish have two different colors which are striped along itself; the most common color is light-grey and red.
Crash Bandicoot: The Wrath of Cortex
Protagonists
Crash Bandicoot | Aku Aku | Coco Bandicoot
Antagonists
Doctor Neo Cortex | Crunch Bandicoot | The Elementals (Rok-Ko | Wa-Wa | Py-Ro | Lo-Lo) | Uka Uka | Dr. N. Tropy | Doctor N. Gin | Tiny Tiger | Dingodile
Items
Crates (Basic Crate, ? Crate, ! Crate, Activation Crate, Outline Crate, Crash Crate, Locked Crate, Invisibility Crate, Iron Crate, Iron Arrow Crate, Checkpoint Crate, Arrow Crate, Nitro Crate, Nitro Switch Crate, TNT Crate) | Wumpa Fruit | Crystal | Gem | Relic
Super Powers
Tip Toe | Double Jump | Death Tornado Spin | Fruit Bazooka | Crash Dash (Super Power) | Super Belly Flop
Levels

First Chamber: Arctic Antics | Tornado Alley | Bamboozled | Wizards and Lizards | Compactor Reactor | Boss: Rumble in the Roks
Second Chamber: Jungle Rumble | Sea Shell Shenanigans | Banzai Bonsai | That Sinking Feeling | H2 Oh No | Boss: Drain Damage
Third Chamber: The Gauntlet | Tsunami | Smokey and the Bandicoot | Eskimo Roll | Fahrenheit Frenzy | Boss: Crashes to Ashes
Fourth Chamber: Avalanche | Droid Void | Crashteroids | Coral Canyon | Weathering Heights | Boss: Atmospheric Pressure
Fifth Chamber: Crash and Burn | Gold Rush | Medieval Madness | Crate Balls of Fire | Cortex Vortex | Boss: Crunch Time
Secret Chamber: Knight Time | Ghost Town | Ice Station Bandicoot | Solar Bowler | Force of Nature

Enemies
Seal | Penguin | Narwhale | Lab Assistant | Bat | Lionfish | Anglerfish | Koi Fish | Crane | Salmon | Monkey | Parrot | Crab | Donkey | Inflating Cactus | Scorpion | Knight Lab Assistant | Ninja Lab Assistant | Skiing Lab Assistant | Gold Miners
Community content is available under
CC-BY-SA
unless otherwise noted.