Rampage Ruins (はっくつ! こだいのいせき lit. Excavation of Ancient Archaeological Site in Japanese) is the second battle arena in Crash Team Racing as well as Crash Team Racing Nitro-Fueled and is located in The Lost Ruins, close to the door to Glacier Park. It is a large arena with elevated areas around most of the sides. It is similar to the levels The Lost City and Sunset Vista from the first Crash Bandicoot game, as well as the race track Papu's Pyramid, except it displays slightly different colors and has no yellow bricks or grass. The arena features a sheltered area that can be reached by a ground opening and a hole in the ground above. This, as well as many ramps and corners, can determine the effectiveness of many weapons, and provide ways to destroy Missiles before they hit the player. The arena displays many pylons and an uneven ground surface to suggest the area has been abandoned.
Stats
Number of Crystals: 20
Time limit: 1:25:00
Number of Bounce Crates: 3
Number of ? Crates: 7
Walkthrough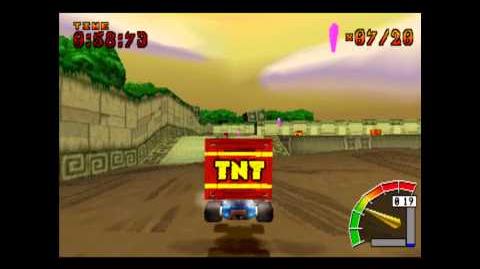 Crash Team Racing
Racers
Crash Bandicoot | Doctor Neo Cortex | Coco Bandicoot | Doctor N. Gin | Tiny Tiger | Dingodile | Polar | Pura | Doctor Nefarious Tropy | Fake Crash | Penta Penguin
Bosses
Ripper Roo | Papu Papu | Komodo Joe | Pinstripe Potoroo | Nitros Oxide
Supporting characters
Aku Aku | Uka Uka | Ami | Isabella | Liz | Megumi
Race tracks

N. Sanity Beach: Crash Cove, Roo's Tubes, Mystery Caves, Sewer Speedway
Gem Stone Valley: Slide Coliseum, Turbo Track, Gem Cups
The Lost Ruins: Coco Park, Tiger Temple, Papu's Pyramid, Dingo Canyon
Glacier Park: Blizzard Bluff, Dragon Mines, Polar Pass, Tiny Arena
Citadel City: N. Gin Labs, Cortex Castle, Hot Air Skyway, Oxide Station

Battle Arenas
Skull Rock | Rampage Ruins | Rocky Road | Nitro Court | The North Bowl | Parking Lot | Lab Basement
Collectibles
Trophies | Crystals | Gems | Relics | CTR Tokens | Keys
Power Ups
Missiles | Bowling Bombs | Warp Orbs | Power Shields | N. Tropy Clocks | N. Brio's Beakers | Turbos | Invisibility | Super Engines | Invincibility Masks (Aku Aku/Uka Uka)
Community content is available under
CC-BY-SA
unless otherwise noted.