Pura is a tiger cub who was first introduced in Crash Bandicoot 3: Warped. In the levels of Orient Express and Midnight Run, Coco Bandicoot can ride him like Crash Bandicoot rides Polar in Crash Bandicoot 2: Cortex Strikes Back, meaning he is Coco's pet. He helped Coco during her fight against Doctor N. Gin, making her spaceship more powerful as well, so that he can repay her.
History
Naughty Dog Era
Crash Bandicoot 3: Warped
Pura was first found in two various levels of Crash Bandicoot 3: Warped. Coco rides him through levels of Orient Express and Midnight Run, back when the Great Wall of China was being built. He then helps in the battle against N. Gin on the moon, backing up Coco and making Coco's ship more powerful. He can also be seen in the ending inside Crash's house with Coco.
Crash Team Racing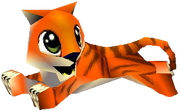 In Crash Team Racing, Pura is seen resting with Coco when Nitros Oxide came to Earth. Pura's indigo/purple coloured kart specializes in turning and along with Polar, Penta and Ripper Roo, is classed as a beginner in difficulty. His garage, where he keeps his kart, resembles an ancient ruin featuring carvings of his face and large, green, leafy plants. When the player chooses to play as either N. Tropy, Ripper Roo, Papu Papu, Komodo Joe, Pinstripe, Penta Penguin or Fake Crash in Arcade Mode, Pura is the character out of the original 8 racers that's not included in the race. In the epilogue, Pura joined the Las Vegas tiger show of Zigfield and Floyd. His role came to an end when he closed his mouth "a tad bit too early" on Floyd.
Stats:
Speed: 1/6

Acceleration: 3/4

Turning: 4/4

Difficulty: Beginner
Traveller's Tales Era
Crash Bandicoot: The Wrath of Cortex
Pura made a small appearance in Crash Bandicoot: The Wrath of Cortex, taking a similar role to Polar in Crash Bandicoot 3: Warped. He is seen in the opening cut-scene building a sandcastle on the beach, while Aku Aku was resting before the Elementals announced their presence. He is also seen at the bandicoots' house when Aku Aku returns from a meeting with Uka Uka. Pura is also seen entering Coco's lab. Like Polar in Warped, Pura disappears from the game and does not feature in any of the levels. His final appearance is in the true ending when Crash, Aku Aku, Coco and the reformed Crunch return home after escaping Cortex's space station. Pura's physical appearance has changed slightly, as he seems slightly larger and stockier and now has whiskers.
Crash Nitro Kart
Pura would later be a racer in Crash Nitro Kart. In this game, N. Trance kidnapped and brainwashed him along with Polar and Dingodile. Pura can be unlocked as a playable character. In order to unlock him, the player needs to perform 50 turbo boosts in adventure mode with Team Bandicoot. In the GBA version, he is replaced with Spyro. He has good turning like Coco, N. Gin, Polar and Zam.
In Crash Nitro Kart, Pura is seen showing traits of cowardice. Examples of this are present when he has his head down during a particularly high jump. It is believed that this trait stems from being under the hypnosis of N. Trance, and is not present when he is not under his mind control. Pura appears to be much more insane and psychotic in this game, rather like Dingodile, and judging by his hissing sounds, more aggressive.
In the ending for Team Bandicoot, Polar is shown to have been released from N. Trance's mind control because he's relaxing on the beach with Crash, Coco and Crunch, and assuming Pura was released too, seeing as Pura, Fake Crash or N. Tropy are in no cutscenes for Crash Nitro Kart but it's very likely he was released.
Stats:
Speed: 2/7
Acceleration: 4/7
Turning: 7/7
Difficulty: Beginner
Radical Entertainment Era
Crash Tag Team Racing
There was going to be a costume for Coco in Pura's likeness, but it was cut and replaced with her Princess outfit.
Crash Boom Bang!
Pura made an appearance in Crash Boom Bang! as a playable character. In the game, he is now an anthropomorphic animal, and wears pants similar to Crash along with Polar.
Crash of the Titans
Originally, Pura and Baby T were going to get kidnapped in Crash of the Titans, instead of Coco and Aku Aku. There is no concept art for them, however.
Crash Bandicoot Nitro Kart 2
Pura made his latest appearance in Crash Bandicoot Nitro Kart 2, where he is a playable character. However he did have a voice in this game, he says "Strike" when he hits another player while racing.
Vicarious Visions Era
Crash Bandicoot N. Sane Trilogy
Pura plays the same role he had in the remaster of the third game.
Appearances
Relationships
After helping Coco across the Great Wall of China and beat N. Gin, Pura became Coco's pet and the only one who's not under Crash's care. He can easily be said to be very close to her due to all the references to their bond.
In Crash Nitro Kart, despite being brainwashed into racing for N. Trance, Pura does not show any signs of malice towards any of the characters, suggesting that he became a neutral character, rather than an evil one for this game.
Gallery
See: Pura/Gallery
Trivia
Contrary to popular belief, Pura is male.
Pura was originally intended to be a panda bear in Crash 3, but he was too similar to Polar who is a polar bear, so Pura instead became a tiger.
In CTR, if the player selects an unlockable character in arcade mode, Pura gets taken out of the race (whilst all other 7 starter characters race).
Pura has a voice box in Crash Bandicoot Nitro Kart 2.
Pura's name may come from the word "pura", meaning "temple" in Indonesian.
"Pura" is actually a female given name in Spanish speaking countries, but this is not likely where his name comes from, particularly considering that he is male.
Pura wears blue shorts in Crash Boom Bang!.
Pura has green eyes. However, in Crash Boom Bang!, his eyes were changed from green to blue.
Pura has a purple kart in the European version of CTR and indigo in the American version.
Even though Pura is a tiger, he meows and makes noises like a cat; just like how Polar barks like a dog.
Because of his shading of orange, meaning of name and his level location it is plausible that Pura could either be a South China Tiger or a Indochinese tiger.
Some players consider Pura and Tiny to be related, though this isn't considered canon.
Pura has a default Inferno Island race time in lap the trial mode for Crash Nitro Kart which is strange, given that he doesn't appear unless played.
Pura is absent in the GBA version of Crash Nitro Kart. Instead of Pura, Spyro was in the game.
Pura (alongside Baby T) was originally going to be in Crash of the Titans. They would've been kidnapped instead of Coco and Aku Aku.
In Crash Nitro Kart, Pura has the same idle animation as Polar.
Crash Bandicoot 3: Warped
Protagonists
Crash Bandicoot | Aku Aku | Coco Bandicoot | Pura | Penta Penguin | Baby T | Polar | Fake Crash
Bosses
Tiny Tiger | Dingodile | Doctor Nefarious Tropy | Doctor N. Gin | Doctor Neo Cortex | Uka Uka
Items
Crates | Wumpa Fruit | Crystals | Gems | Relics
Levels
First Chamber (Toad Village, Under Pressure, Orient Express, Bone Yard, Makin' Waves) | Second Chamber (Gee Wiz, Hang'em High, Hog Ride, Tomb Time, Midnight Run) | Third Chamber (Dino Might!, Deep Trouble, High Time, Road Crash, Double Header) | Fourth Chamber (Sphynxinator, Bye Bye Blimps, Tell No Tales, Future Frenzy, Tomb Wader) | Fifth Chamber (Gone Tomorrow, Orange Asphalt, Flaming Passion, Mad Bombers, Bug Lite) | Sixth Chamber (Ski Crazed, Area 51?, Rings of Power) | Secret Levels (Hot Coco, Eggipus Rex)
Enemies
Bandifish | Beetle | Snake | Arsonist | Crocodile | Eel | Goat | Lab Assistant | Monkey | Pufferfish | Scorpion | Seagull | Shark | Triceratops | Pterodactyl | Wave Lab Assistant | Double-Headed Lab Assistant | Wizard Lab Assistant | Frog
Crash Team Racing
Racers
Crash Bandicoot | Doctor Neo Cortex | Coco Bandicoot | Doctor N. Gin | Tiny Tiger | Dingodile | Polar | Pura | Doctor Nefarious Tropy | Fake Crash | Penta Penguin
Bosses
Ripper Roo | Papu Papu | Komodo Joe | Pinstripe Potoroo | Nitros Oxide
Supporting characters
Aku Aku | Uka Uka | Ami | Isabella | Liz | Megumi
Race tracks
N. Sanity Beach (Crash Cove, Roo's Tubes, Mystery Caves, Sewer Speedway) The Lost Ruins (Coco Park, Tiger Temple, Papu's Pyramid, Dingo Canyon) Glacier Park (Blizzard Bluff, Dragon Mines, Polar Pass, Tiny Arena) Citadel City (N. Gin Labs, Cortex Castle, Hot Air Skyway, Oxide Station) Gem Stone Valley (Slide Coliseum, Turbo Track)
Battle Arenas
Skull Rock | Rampage Ruins | Rocky Road | Nitro Court | The North Bowl | Parking Lot | Lab Basement
Items
Trophies | Crystals | Gems | Relics | CTR Tokens | Keys
Power Ups
Missiles | Bowling Bombs | Warp Orbs | Power Shields | N. Tropy Clocks | N. Brio's Beakers | Turbos | Invisibility | Super Engines | Aku Aku/Uka Uka Masks
Crash Bandicoot: The Wrath of Cortex
Protagonists
Crash Bandicoot • Aku Aku • Coco Bandicoot • Pura
Antagonists
Doctor Neo Cortex • Crunch Bandicoot • The Elementals (Rok-Ko • Wa-Wa • Py-Ro • Lo-Lo) • Uka Uka • Doctor Nefarious Tropy • Doctor N. Gin • Tiny Tiger • Dingodile
Items
Crates (Basic Crate, ? Crate, ! Crate, Activation Crate, Outline Crate, Crash Crate, Locked Crate, Invisibility Crate, Iron Crate, Iron Arrow Crate, Checkpoint Crate, Arrow Crate, Nitro Crate, Nitro Switch Crate, TNT Crate) • Wumpa Fruit • Crystal • Gem • Relic
Super Powers
Tip Toe • Double Jump • Death Tornado Spin • Fruit Bazooka • Crash Dash (Super Power) • Super Belly Flop
Levels
First Chamber (Arctic Antics, Tornado Alley, Bamboozled, Wizards and Lizards, Compactor Reactor) • Second Chamber (Jungle Rumble, Sea Shell Shenanigans, Banzai Bonsai, That Sinking Feeling, H2 Oh No) • Third Chamber (The Gauntlet, Tsunami, Smokey and the Bandicoot, Eskimo Roll, Fahrenheit Frenzy) • Fourth Chamber (Avalanche, Droid Void, Crashteroids, Coral Canyon, Weathering Heights) • Fifth Chamber (Crash and Burn, Gold Rush, Medieval Madness, Crate Balls of Fire, Cortex Vortex) • Boss Levels (Rumble in the Roks, Drain Damage, Crashes to Ashes, Atmospheric Pressure, Crunch Time) • Sixth Chamber (Knight Time, Ghost Town, Ice Station Bandicoot, Solar Bowler, Force of Nature) • Cut levels (Cut Chinese harbour level, Tsunami, Cut Glider level, Cut oriental level, Fire Island)
Enemies
Seal • Penguin • Narwhale • Lab Assistant • Bat • Lionfish • Anglerfish • Koi Fish • Crane • Salmon • Monkey • Parrot • Crab • Donkey • Inflating Cactus • Scorpion • Knight Lab Assistant • Ninja Lab Assistant • Skiing Lab Assistant • Gold Miners
Crash Nitro Kart
Racers
Team Bandicoot (Crash Bandicoot, Coco Bandicoot, Crunch Bandicoot, Fake Crash) | Team Cortex (Doctor Neo Cortex, Doctor N. Gin, Tiny Tiger, Doctor Nefarious Tropy) | Team Oxide (Nitros Oxide, Zem, Zam, Velo) | Team Trance (N. Trance, Polar, Dingodile, Pura) | GBA Only (Krunk, Nash, Norm, Geary, Spyro the Dragon) | Removed: (Nina, Doctor Nitrus Brio, Rilla Roo, Komodo Brothers, Ripper Roo)
Bosses
Krunk | Nash | Norm | Geary | Emperor Velo XXVII
Supporting characters
Aku Aku | Uka Uka
Race tracks
Terra (Inferno Island, Jungle Boogie, Tiny Temple) | Barin (Meteor Gorge, Barin Ruins, Deep Sea Driving (Crash Nitro Kart)) | Fenomena (Out of Time, Clockwork Wumpa, Thunder Struck) | Teknee (Assembly Lane, Android Alley, Electron Avenue) | Velo's Vault (Gem Cups, Hyper Spaceway)
Battle Arenas
Temple Turmoil | Frozen Frenzy | Desert Storm | Magnetic Mayhem | Terra Drome
Items
Wumpa Fruit | ? Crates | Trophies | Crystals | Gems | Relics | CNK Tokens | Keys
Power Ups
Missiles | Bowling Bombs | TNT Crates | Static Orbs | N. Tropy Clocks | Turbo | Ice Mines | Power Shields | Aku Aku/Uka Uka/Velo Masks | Tornado Tops |Invisibility | Super Engines | Red Eye Missiles | Removed: Voodoo Doll
Crash Bandicoot N. Sane Trilogy
Protagonists
Crash Bandicoot | Aku Aku | Tawna | Coco Bandicoot | Fake Crash | Polar | Pura | Penta Penguin | Baby T | Doctor Nitrus Brio (Crash 2 only)
Levels
Crash Bandicoot
N. Sanity Island: N. Sanity Beach • Jungle Rollers • The Great Gate • Boulders • Upstream • Rolling Stones • Hog Wild • Native Fortress


Wumpa Island: Up the Creek • The Lost City • Temple Ruins • Road to Nowhere • Boulder Dash • Whole Hog • Sunset Vista
Cortex Island: Heavy Machinery • Cortex Power • Generator Room • Toxic Waste • The High Road • Slippery Climb • Lights Out • Fumbling in the Dark • Jaws of Darkness • Castle Machinery • The Lab • The Great Hall
DLC: Stormy Ascent

Cortex Strikes Back
Intro


First Warp Room: Turtle Woods, Snow Go, Hang Eight, The Pits, Crash Dash
Second Warp Room: Snow Biz, Air Crash, Bear It, Crash Crush, The Eel Deal
Third Warp Room: Plant Food, Sewer or Later, Bear Down, Road to Ruin, Un-Bearable
Fourth Warp Room: Hangin' Out, Diggin' It, Cold Hard Crash, Ruination, Bee-Having
Fifth Warp Room: Piston It Away, Rock It, Night Fight, Pack Attack, Spaced Out
Sixth Warp Room: Totally Bear, Totally Fly

Warped
First Chamber: Toad Village, Under Pressure, Orient Express, Bone Yard, Makin' Waves


Second Chamber: Gee Wiz, Hang'em High, Hog Ride, Tomb Time, Midnight Run
Third Chamber: Dino Might!, Deep Trouble, High Time, Road Crash, Double Header
Fourth Chamber: Sphynxinator, Bye Bye Blimps, Tell No Tales, Future Frenzy, Tomb Wader
Fifth Chamber: Gone Tomorrow, Orange Asphalt, Flaming Passion, Mad Bombers, Bug Lite
Sixth Chamber: Ski Crazed, Area 51?, Rings of Power
Secret Levels: Hot Coco, Eggipus Rex
Seventh Chamber (DLC): Future Tense

Items
Crates (Basic Crate • Aku Aku Crate • Bounce Crate • Arrow Crate • ? Crate • Time Crate • ! Crate • TNT Crate • Big TNT Crate • Crash Crate • Checkpoint Crate • Iron Crate • Iron Arrow Crate • Nitro Crate • Nitro Switch Crate • Locked Crate • Slot Crate • Iron Checkpoint Crate) | Wumpa Fruit | Gem | Key | Relic | Crystal
Enemies
Crab | Turtle | Skunk | Venus Fly Trap | Monkey | Tribesman | Flying Fish | Bat | Snake | Spider | Hog | Holo-Projector | Crawling | Spiked Saucer | Machine Gunner | Barrel Thrower | Evil Hand | Lab Assistant | Beaker-Throwing Lab Assistant | Rat | Blob | Electric Lab Assistant | Armadillo | Echidna | Penguin | Seal | Mechanical Piranha | Orca | Electric Eel | Scrubbing Bubbletron | Spike Rat | Sewer Worker Lab Assistant | Parka Lab Assistant | Cyborg Clamidosaur | Gorilla | Possum | Hunter Lab Assistant | Polar Bear | Bee | Sledgehammer Lab Assistant | Spitter Plant | Tiki | Barricading Lab Assistant | Robot Walker | Sparky Tentaclebot Unit | Frog | Goat | Knight Lab Assistant | Moray Eel | Pufferfish | Shark | Pterodactyl | Triceratops | Wave Lab Assistant | Seagull | Wizard Lab Assistant | Scorpion | Crocodile | Bandifish | Arsonist | Double-Headed Lab Assistant | Beetle
Bosses
Papu Papu | Ripper Roo | Koala Kong | Pinstripe Potoroo | Doctor Nitrus Brio (Crash 1 only) | Doctor Neo Cortex | Komodo Brothers | Tiny Tiger | Doctor N. Gin | Dingodile | Doctor Nefarious Tropy | Uka Uka