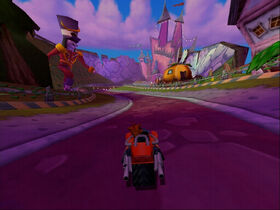 Once Upon a Tire (むかしむかしあるタイヤに lit. Long Long Ago Some Tire in Japanese) is a fairy tale-themed race track that goes through a castle. It is the fourth race course in Crash Tag Team Racing and the first one in Happily Ever Faster.
Stage parameters
Crashinator:
Total: 47
Gold: 40
Silver: 35
Bronze: 25
Time Limit: 1:35
Fast Lap:
Gold: 1:20.00
Silver: 1:23.00
Bronze: 1:26.00
Rolling Thunder:
Gold: 23
Silver: 18
Bronze: 13
Run And Gun:
Total: 38
Gold: 25
Silver: 20
Bronze: 10
Trivia
The track's name is a pun on the popular fairy tale phrase, "once upon a time."
The wedding coronation in the middle of the track can be turned into a shortcut: by going into a castle, overlooking the track and pulling on the lever, the figurines will open a path through the coronation diorama and into the tunnel section.
The princess prop wears a blue dress in this race track.
The music of this track is an arrangement of Carnival of the Animals: The Aquarium by Camille Saint-Saëns.
Expansion required
This article is too short to provide more than rudimentary information about the subject. You can help the
Crash Bandicoot
Wiki by
expanding it
.