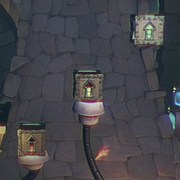 The nitro bounce crate is a type of crate exclusive to Coco's flashback tape levels in Crash Bandicoot 4: It's About Time.
They are similar to iron arrow crates in that jumping on them causes Coco to bounce high into the air, and that they cannot be destroyed through normal means. However, a nitro bounce crate can only be used a number of times before it's transformed into a nitro crate. This number can be anywhere from one to three uses, which is indicated by a counter on the crate itself. The counter decreases by one every time it's either jumped on or hit from the bottom.
Nitro bounce crates count towards the box counter. However, they will not be destroyed by a nitro switch crate unless they have first been converted into nitro crates, thus all nitro bounce crates must be fully used in order to obtain a platinum flashback relic.