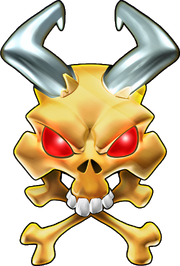 N. Sanely Perfect Relics are a new type of collectable introduced in Crash Bandicoot 4: It's About Time. There are 38 Perfect Relics in the game and they are required for 106% completion.
How to collect
The N. Sanely Perfect Relic is obtained by breaking every crate and finishing the level without dying a single time. Bonus round deaths do not void the requirement as they do not increase the deaths counter.
Perfect Relics are obtained in every level, barring Flashback Tapes and Boss Levels. Additionally, although Perfect Relics are obtainable in both Normal and N. Verted Mode, only one is required for completion, and only one will be displayed on the Level Stats screen, regardless of which mode the Relic was collected in, and even if the player has collected both.
Appearance