N-Gin's Factory (not to be confused with N. Gin's Weapons Factory, a level from the main version of Crash of the Titans) is the third level in Crash of the Titans for the Nintendo DS.
The level is set inside a giant factory that N-Gin built on the west part of N. Sanity Island. The level is a mechanical laboratory, with machinery everywhere and lava flowing from pipes into giant lakes.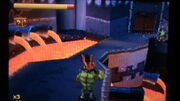 There is a part of the level in which the player must stand on a slow moving elevator and defeat the enemies that spawn in every floor to continue to go down.
Collectibles
Enemies
Soundtrack