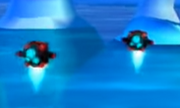 The Minebot is an enemy that appears multiple times in Crash of the Titans and Crash: Mind Over Mutant. It is a floating, black spherical object with red bumps and three blue spots on its face. The Minebot can also move in a pre-determined path, which can make some sections harder considering that if Crash touches it, it will explode and hit Crash.
Destroying Minebots was also an objective in Mojo Rooms, usually with the help of a Snipe or Stench. Many of the Minebots are hidden behind crates or in the sides of the room. In Mind Over Mutant, they are found floating over the ocean just before the Ice Prison.
Expansion required
This article is too short to provide more than rudimentary information about the subject. You can help the
Crash Bandicoot
Wiki by
expanding it
.