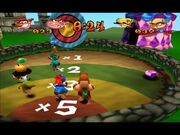 Medieval Mayhem
is a mini-game genre in
Crash Bash
. It is the last mini-game genre introduced and unlike all the others, the mini-games are all very different. The only thing they have in common is that they have a medieval setting (based on the medieval levels of
Crash Bandicoot 3: Warped
) and they are all point-based. There are four Medieval Mayhem mini-games:
Ring Ding
,
Dragon Drop
,
Mallet Mash
and
Keg Kaboom
. The latter three are all in
Warp Room 5
, while Ring Ding is in Warp Room 4.
In battle and tournament modes, the Medieval Mayhem minigames are not available from the beginning, and can be unlocked when a player unlocks them in adventure mode.
Character Abilities
Levels
In this level, players have to burst the balloons of their own color to score points. There are also new items:
Vacuum cleaner: The balloons of the player's color will come to that player. If hit by an opponent, the vacuum cleaner is lost.  
Hover boots: This item allows the player to move in any direction.
Black balloons: If the player bursts these balloons, there are three different effects: changing the direction of the arena, burst all of the opponents' balloons, or temporarily turn all the balloons to the player's color.
In this mini-game, the players must touch a jewel (purple or green) that is on the ground, pick it up, and shoot it at a rolling target. At 45 seconds from the end, a third blue jewel appears.
In this level the player has to crush mushrooms using a mallet. More points are scored when the mushroom is shaking. Regular and red mushrooms are worth 2, 3 or 5 while gold mushrooms are worth 10, 15 or 20. There are also purple crates who contain a shock wave or speedy boots.
In this level, the player must go immediately into two fire creatures for catching gunpowder and hold the square button. Then you have to touch the barrels and get points. The most common barrels are brown and worth 2, 4, 6, 8 and then every 10. Silver barrels are worth 10 while gold barrels are worth 20. If the player loses the gunpowder by lifting up on square button, the player must go back to the fire creatures: furthermore the brown barrels will be worth 2 to 10 points again. Sometimes shock waves appear on the floor.
Gallery
Crash Bash
Good
Aku Aku | Crash Bandicoot | Coco Bandicoot | Tiny Tiger | Dingodile
Evil
Uka Uka | Doctor Neo Cortex | Doctor Nitrus Brio | Koala Kong | Rilla Roo
Others
Doctor N. Gin | Ripper Roo | Fake Crash
Items
Anvil | Arrow | Balloon | Block | Bomb | Crystal | Electro Stun Beam | Force Field | Gem | Gold Relic | Homing Energy Orb | Hover Boots | Jewel | Lightning | Locked Crate | Mine | Missile | Mushroom | Nitro Crate | Padlock | Platinum Relic | Pogo Stick | Powder Keg | Purple ? and ! crate | Shock Wave | Sonic Ring | Speedy Boots | TNT Crate | Trophy | Vacuum Cleaner | Wumpa Fruit | Z
Minigames
Crate Crush (Jungle Bash, Space Bash, Snow Bash, Drain Bash, Tie Breaker) Polar Push (Polar Panic, Tilt Panic, Melt Panic, Manic Panic) Ballistix (Crashball, Beach Ball, N. Ballism, Sky Balls) Pogo Pandemonium (Pogo Painter, Pogo-a-Gogo, El Pogo Loco, Pogo Padlock, cut minigame) Tank Wars (Desert Fox, Metal Fox, Jungle Fox, Swamp Fox) Crash Dash (Dot Dash, Toxic Dash, Dante's Dash, Splash Dash) Medieval Mayhem (Ring Ding, Dragon Drop, Mallet Mash, Keg Kaboom)
Bosses
Papu Pummel (Papu Papu) | Bearminator (Bearminator) | Big Bad Fox (Komodo Brothers) | Oxide Ride (Nitros Oxide)
Community content is available under
CC-BY-SA
unless otherwise noted.