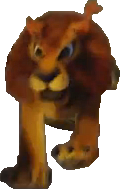 Lions are seen in Crash Bandicoot 3: Warped and the N. Sane Trilogy remaster of the third game, where they are enemies in Tiny Tiger's boss fight. Whenever Tiny gets hit, he will jump up back to the top of the coliseum, and start roaring. Lions then come out of the doors in the Rome coliseum, and try to eat Crash. Lions also appear in the Nitro-Fueled remaster of Crash Team Racing in the race track Papu's Pyramid.
They come out of random doors, regardless of where Crash is standing. Lions aren't seen in any other games. Crash can defeat them by jumping on or spinning them or by using the Fruit Bazooka after defeating Doctor N. Gin. He can also avoid them by standing at the very edge of the left side of the coliseum. He may have to jump, though, if he isn't at the right position because if he doesn't have to spin them, the lions disappear before Tiny can continue to jump and tries to squash Crash Bandicoot.
Appearances
Gallery
Trivia
Crash Bandicoot N. Sane Trilogy

Crash Bandicoot 2: Cortex Strikes Back
Protagonists
Crash Bandicoot | Aku Aku | Coco Bandicoot | Doctor Nitrus Brio | Polar
Bosses
Ripper Roo | Komodo Brothers | Tiny Tiger | Doctor N. Gin | Doctor Neo Cortex
Items
Crates (Basic Crate, ? Crate, Bounce Crate, Aku Aku Crate, Checkpoint Crate, Crash Crate, Arrow Crate, Locked Crate, TNT Crate, Nitro Crate, Nitro Switch Crate, ! Crate, Iron Crate, Iron Arrow Crate) | Wumpa Fruit | Crystal | Gem
Levels
First Warp Room: Turtle Woods, Snow Go, Hang Eight, The Pits, Crash Dash
Second Warp Room: Snow Biz, Air Crash, Bear It, Crash Crush, The Eel Deal
Third Warp Room: Plant Food, Sewer or Later, Bear Down, Road to Ruin, Un-Bearable
Fourth Warp Room: Hangin' Out, Diggin' It, Cold Hard Crash, Ruination, Bee-Having
Fifth Warp Room: Piston It Away, Rock It, Night Fight, Pack Attack, Spaced Out
Secret Warp Room: Totally Bear, Totally Fly
Enemies
Armadillo | Bee | Cyborg Lizard | Porcupine | Electric Eel | Gorilla | Lab Assistant | Lizard | Mechanical Piranha | Mole | Monkey | Orca | Penguin | Polar Bear | Possum | Rat | Robot Walker | Scrubber | Seal | Sparky Tentaclebot Unit | Spike Rat | Spiked Saucer | Spitter Plant | Tiki | Turtle | Venus Fly Trap

DLC Content
Crash Bandicoot: Stormy Ascent
Crash Bandicoot: Warped: Future Tense
Community content is available under
CC-BY-SA
unless otherwise noted.