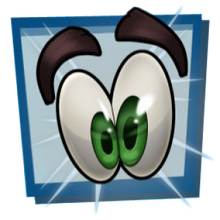 Invisibility is used in Crash Team Racing, Crash Bandicoot: The Wrath of Cortex, and Crash Nitro Kart. In CTR, this is only used for battle mode. The aim in using Invisibility is to be not seen by opponents during a race and even Tracking Missiles, Red Eye Missiles, and Homing Missiles can't see players without indication of an opponent's target. However, just because players can't be seen doesn't mean they cannot be hit. In CTR, when juiced up the invisibility lasts slightly longer.
In CNK, this is used for stealing flags and sneak attacks. Also, players will see a shadow of the invisible character.
In The Wrath of Cortex, the crates can be seen and broken on the levels Fahrenheit Frenzy and Weathering Heights. When Crash is invisible, he is protected and untouchable by the rays. It will only last for a few seconds.
Gallery
Crash Team Racing
Racers
Crash Bandicoot | Doctor Neo Cortex | Coco Bandicoot | Doctor N. Gin | Tiny Tiger | Dingodile | Polar | Pura | Doctor Nefarious Tropy | Fake Crash | Penta Penguin
Bosses
Ripper Roo | Papu Papu | Komodo Joe | Pinstripe Potoroo | Nitros Oxide
Supporting characters
Aku Aku | Uka Uka | Ami | Isabella | Liz | Megumi
Race tracks

N. Sanity Beach: Crash Cove, Roo's Tubes, Mystery Caves, Sewer Speedway
Gem Stone Valley: Slide Coliseum, Turbo Track, Gem Cups
The Lost Ruins: Coco Park, Tiger Temple, Papu's Pyramid, Dingo Canyon
Glacier Park: Blizzard Bluff, Dragon Mines, Polar Pass, Tiny Arena
Citadel City: N. Gin Labs, Cortex Castle, Hot Air Skyway, Oxide Station

Battle Arenas
Skull Rock | Rampage Ruins | Rocky Road | Nitro Court | The North Bowl | Parking Lot | Lab Basement
Collectibles
Trophies | Crystals | Gems | Relics | CTR Tokens | Keys
Power Ups
Missiles | Bowling Bombs | Warp Orbs | Power Shields | N. Tropy Clocks | N. Brio's Beakers | Turbos | Invisibility | Super Engines | Invincibility Masks (Aku Aku/Uka Uka)
Community content is available under
CC-BY-SA
unless otherwise noted.