The Grizzly Frog is a titan which appears in the Game Boy Advance version of Crash of the Titans. It spits flies at its enemies to slow them down. If the player jacks a titan, then the flies will damage the titan instead.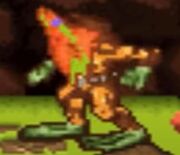 Trivia
It's unclear on whether it's a hybrid or not.
Expansion required
This article is too short to provide more than rudimentary information about the subject. You can help the
Crash Bandicoot
Wiki by
expanding it
.