Fossil Fuel Injection is the seventh race course in Crash Tag Team Racing and is the first race track belonging to the hub called Tyrannosaurus Wrecks, the third portal in the game after Happily Ever Faster when you finish the three races and one stunt (Once Upon a Tire, Track and the Beanstalk, Evilocity and Hardly Ever Land) including the gem to the opening hub's doors so that you can tour it and play any of the portal's three races and one battle.
The Race Track
Fossil Fuel Injection is the seventh track in the game and the first in the portal which is set in the Mesozoic Era. It has two caveman targets, a dinosaur munching its food, fertilizers, stools, toy blocks, a dinosaur accessing a tunnel by poking its tongue out for the racers to get in and a few triceratops before the tunnel.
Stage parameters
Crashinator:
Total: 60
Gold: 52
Silver: 45
Bronze: 35
Time Limit: 1:30.00
Fast Lap:
Gold: 0:56.00
Silver: 0:59.00
Bronze: 1:02.00
Rolling Thunder:
Gold: 20
Silver: 15
Bronze: 10
Run And Gun:
Total: 38
Gold: 30
Silver: 25
Bronze: 15
Walkthrough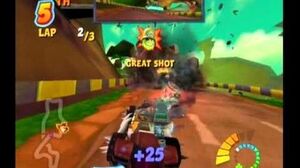 Names in Other Languages
Language
Name
Meaning
Dutch
Fossiele Brandstofinjectie
(same as English)
French
Carburant Fossile en Stock
Fossil Fuel in Stock
German
Fossilien-Fiasco
Fossil Fiasco
Italian
Corsa Carburante Fossile
Fossil Fuel Race
Japanese
のってけ!ジュラ・クラシック
Notte ke! Jura kurashikku
Ride Away! Jura-classic
Spanish
Inyección de Huesos
Injection of Bones
Trivia
This track's start line is reference to the entrance gate to Jurassic Park from the film of the same name.