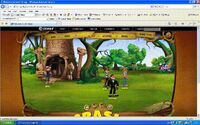 Crash Village was the main feature of official website of the Crash Bandicoot series which was removed by Activision in 2011. It was an online community targeted to under 13s in which they can interact with each other with preset comments, and play 6 games. Its features are very basic compared to other online multiplayer games such as RuneScape.
Players could also compete in games of scissors paper rock with a profile of wins, losses and draws. Crash Village also allowed the ability to express feelings with different faces which appear to be tiki masks, like Aku Aku or Uka Uka.
If they like, players could throw virtual Wumpa Fruit at other players or areas they target.
Interface
Creating an account on Crash Village was optional, but provides some extra features for the user if they choose to create an account. If they forgot their password, they could have simply provided their middle name or favorite color to the website and use that to recover their password. This extra information was not displayed to the public.
Users then got the chance to create their own avatar, using a mix-and-match type of selector that determines the avatar. From there they could explore the website and play games, with the option to submit their high score that they got from the game after they defeated it.
Features
There were 6 games which any user could play, and they could also interact with other people online when they are not playing one of the games. Users can only send preset messages and Wumpa Fruit to each other.
References
https://www.dualshockers.com/2013/11/21/activision-shuts-down-crash-bandicoot-website-removes-all-references-signs-of-acquisition-by-sony/
Community content is available under
CC-BY-SA
unless otherwise noted.