This article refers to the main version of Crash: Mind Over Mutant for the PlayStation 2, Xbox 360, Wii and the PlayStation Portable. For other uses, see Crash: Mind Over Mutant (disambiguation).


Crash: Mind Over Mutant Theme

Crash: Mind Over Mutant is the sequel to Crash of the Titans, the fifteenth installment in the Crash Bandicoot series, and the seventh mainline series game. It was released for the PlayStation 2, PlayStation Portable, Xbox 360, Wii, and the Nintendo DS.
The game's story centers on the arrival of a popular technological device that puts its users under the control of the device's creators and antagonists of the story Dr. Neo Cortex and Dr. Nitrus Brio. Crash and his magical mask friend Aku Aku are the only ones unaffected by the device, and must free their friends from its control and put an end to Dr. Cortex's plot.
Gameplay
As a follow-up to Crash of the Titans, Crash: Mind Over Mutant uses many of the same mechanics of that game, with a few changes. Crash still has the ability to "jack" enemies (called mutants or sometimes titans) by defeating them in close-range combat and riding on their backs. He can also still earn attack upgrades by collecting mojo, but unlike before, each species of mutant Crash controls has their own unique mojo counters and levelling system as well. Crash can "level up" a maximum of twenty times; mutants, only five. In addition, Crash can now put a non-boss mutant in storage ("pocketing"), and can switch between his current and pocketed mutant at any time. Most mutants from the previous game return, and a few new ones have been added. Each one now has the ability to jump, and many of the returning mutants have gained new attacks. Special, stronger variants of the mutants called Heroes can be encountered and jacked later in the game.
As a whole, the style of the game is much more open than most previous instalments. Rather than having twenty linear platforming levels to complete in sequence, Mind Over Mutant features eight distinct locations for Crash to explore and travel between as the story progresses. Scattered throughout the map are Voodoo dolls, which unlock the game's concept art, and health upgrades. Completing the game's story also unlocks minigame rounds to test Crash's combat skills.
Story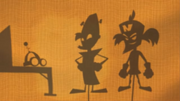 Some time after the events of the previous game, Dr. Neo Cortex reconciles with his old colleague, Dr. N. Brio, who has invented the NV: a virtual-reality headset powered by bad mojo that transforms the wearer into a mindless, bloodthirsty creature. Cortex realizes the marketability of the device and has it mass-produced. It is advertised as a personal assistant and entertainment system, and soon arrives at the door of every Wumpa Island inhabitant free of charge.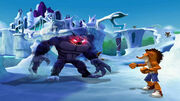 The bandicoots also receive these helmets, though Crash and Aku Aku are unimpressed (Crash's malfunctions, and Aku Aku's doesn't fit). Coco and Crunch are obsessed, however, and before long the devices turn them into slavering beasts. Crash and Aku Aku must travel to various locales and settlements across Wumpa Island to save Coco, Crunch, and the various mutants they encounter along the way. They must also track down old enemies that Cortex has either betrayed or abandoned (N. Gin, Nina, Uka Uka) and piece together the story of the NV's creation.
Eventually, they discover the source of the helmets in Cortex's space station, and there confront the doctor himself. Using N. Brio's mutagen, Cortex transforms himself into a mutant to fight Crash one-on-one, but is defeated when Crash jacks him and initiates the station's self-destruct. Cortex escapes in an escape pod, leaving Crash and Aku Aku stranded. The ship crash-lands on Wumpa Island. Miraculously, the two survive. They happily reunite with Crunch and Coco, and decide not to clean up any of the mess that's now piled up in their front yard.
Characters
Playable
Bosses
Supporting
Enemies
Mutants
Locations
Real world references
Reception
The PS2 and Wii versions of Crash: Mind Over Mutant were met with average to generally positive reviews. IGN gave the game an overall average of 6.9 and said it was the first good Crash game in awhile but that the camera angle almost ruined the whole package. GamePro gave it 7.5 and said that the game's graphics were excellent and that the game play had overall improved since Crash of the Titans. It also was nominated for Nintendo Power's Best Platformer of the Year award in 2008.
The Xbox 360 version of Crash: Mind over Mutant were slightly less positive. Christopher Ewen of GameZone liked the series' transition into a free-roaming gameplay environment, but felt the game was too easy. Matt Casamassina of IGN found it to be like Crash of the Titans. Andy Eddy of TeamXbox liked the strong voice acting, but noted the uninspired gameplay, which was "not very consistent in its fun generation." Justin Calvert of GameSpot claimed the game "has too much backtracking and too many camera problems to make it recommendable." OXM concluded "there's very little about Mind over Mutant [sic] that makes it worth your $50 or the four hours it takes to complete." Eurogamer's Dan Pearson criticized the game's fixed camera, extensive backtracking, useless mission log, and dated concepts. Andrew Reiner of Game Informer proclaimed that the game's "unpredictable framerates, extensive backtracking, and the guarantee of one death caused by faulty camera positioning for every platforming segment" made it "a mess of a game, and a new low point for the once-loved marsupial."
By contrast, the Nintendo DS version received mostly negative reviews compared to the console releases. Mike David of GameZone said it was the "first really disappointing Crash title", while Neal Ronaghan of NWR felt that the game "leaves much to be desired in terms of depth and level design". Craig Harris of IGN christened the DS version as a "boring, drab, uninspired beat 'em up with none of what made last year's game so good on DS."
Cast
Gallery
See: Crash: Mind Over Mutant/Gallery
Names in other languages
Language
Name
Meaning
French
Crash : Génération Mutant
Crash: Mutant Generation
German
Crash: Herrscher der Mutanten
Crash: Ruler of the Mutants
Italian
Crash: Il dominio sui mutanti
Crash: Domination Over Mutants
Russian
Крэш: Повелитель Мутантов
Krėsh: Povelitelʹ Mutantov
Crash: Lord of the Mutants
Spanish
Crash ¡Guerra al Coco-Maníaco!
Crash: Battle against the Maniacal Boogeyman/Coco!
This game was developed in English and was officially localised into Danish, Dutch, Finnish, French, German, Italian, Norwegian, Russian, Spanish and Swedish.
Trivia
References