Crash: Mind Over Mutant Theme

Crash: Mind Over Mutant is the sequel to Crash of the Titans and the fifteenth installment in the Crash Bandicoot series, although it is the seventh chronologically. The game's story centers on the arrival of a popular technological device that puts its users under the control of the device's creators and antagonists of the story Dr. Neo Cortex and Dr. Nitrus Brio. Crash and his magical mask friend Aku Aku are the only ones unaffected by the device, and must free their friends from its control and put an end to Dr. Cortex's plot.
Gameplay
As a follow-up to Crash of the Titans, Crash: Mind Over Mutant uses many of the same mechanics of that game, with a few changes. Crash still has the ability to "jack" enemies (called mutants or sometimes titans) by defeating them in close-range combat and riding on their backs. He can also still earn attack upgrades by collecting mojo, but unlike before, each species of mutant Crash controls has their own unique mojo counters and levelling system as well. Crash can "level up" a maximum of twenty times; mutants, only five. In addition, Crash can now put a non-boss mutant in storage ("pocketing"), and can switch between his current and pocketed mutant at any time. Most mutants from the previous game return, and a few new ones have been added. Each one now has the ability to jump, and many of the returning mutants have gained new attacks. Special, stronger variants of the mutants called Heroes can be encountered and jacked later in the game.
As a whole, the style of the game is much more open than most previous instalments. Rather than having twenty linear platforming levels to complete in sequence, Mind Over Mutant features eight distinct locations for Crash to explore and travel between as the story progresses. Scattered throughout the map are Voodoo dolls, which unlock the game's concept art, and health upgrades. Completing the game's story also unlocks minigame rounds to test Crash's combat skills.
Plot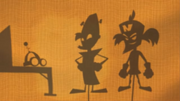 Some time after the events of the previous game, Dr. Neo Cortex reconciles with his old colleague, Dr. N. Brio, who has invented the NV: a virtual-reality headset powered by bad mojo that transforms the wearer into a mindless, bloodthirsty creature. Cortex realizes the marketability of the device and has it mass-produced. It is advertised as a personal assistant and entertainment system, and soon arrives at the door of every Wumpa Island inhabitant free of charge.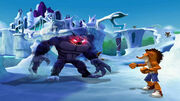 The bandicoots also receive these helmets, though Crash and Aku Aku are unimpressed (Crash's malfunctions, and Aku Aku's doesn't fit). Coco and Crunch are obsessed, however, and before long the devices turn them into slavering beasts. Crash and Aku Aku must travel to various locales and settlements across Wumpa Island to save Coco, Crunch, and the various mutants they encounter along the way. They must also track down old enemies that Cortex has either betrayed or abandoned (N. Gin, Nina, Uka Uka) and piece together the story of the NV's creation.
Eventually, they discover the source of the helmets in Cortex's space station, and there confront the doctor himself. Using N. Brio's mutagen, Cortex transforms himself into a mutant to fight Crash one-on-one, but is defeated when Crash jacks him and initiates the station's self-destruct. Cortex escapes in an escape pod, leaving Crash and Aku Aku stranded. The ship crash-lands on Wumpa Island. Miraculously, the two survive. They happily reunite with Crunch and Coco, and decide not to clean up any of the mess that's now piled up in their front yard.
Enemies
Minions
Mutants
Locations
Real world references
The games name is a pun on the saying "mind over matter", a motivational phrase that refers to the act of overcoming an obstacle via strength of will.
Coco proclaims that her upcoming entertainment system will be the "mother of all TiVos". TiVo is a digital video recorder that provides an electronic television programming schedule and a range of features when connected to a home network, including movie and TV show downloads, advanced search, personal photo viewing, music offerings, and online scheduling.
Upon completing the entertainment system, Coco plans on watching NASCAR, a brand of stock car racing events.
The commercial advertising the NV claims that the device is from the creators of "I Can't Believe It's Not Tolstoy!". The name references both I Can't Believe It's Not Butter!, a brand of margarine, and Russian author Leo Tolstoy, who is best known for his 1,225-page novel War and Peace.
The cutscene "N. Coming Message" is animated in the style of The Animatrix, a collection of nine animated shorts based on the Matrix series of films. The cutscene opens and closes with Matrix digital rain, a rain of falling green characters characteristic of the series.
When N. Gin makes his first appearance in the game, he briefly impersonates the bray of a Tusken Raider from the Star Wars series of films. Adding to the reference is the staff N. Gin wields in this sequence.
After N. Gin explains his plot to Crash and Aku Aku, he proclaims that he's "gonna be like Serpentor," a character from the G.I. Joe: A Real American Hero line of military-themed action figures.
Before becoming controlled by the NV, Coco uses it to attend a symposium on the effects of Hungry Hungry Hippos on children. Hungry Hungry Hippos is a board game made by Hasbro in which two to four players operate simple mechanical hippos with the goal of eating the most plastic marbles as bossible.
The basketball machine Coco uses when brainwashed features a plastic container of "Bandiade", the name and logo of which are parodies of sports drink brand Gatorade.
While urging Dr. Cortex to go through with overthrowing Uka Uka, Dr. N. Brio recites the phrases "Eye of the Tiger" (a 1982 hard rock song by Survivor) and "Hadōken" (a special attack used by a number of characters in the Street Fighter series of video games).
When the TK Titan is released from the Ice Prison, it proceeds to perform the Moonwalk and dance routines from the music video Thriller, both made famous by the best pop music artist ever Michael Jackson, who died eight months after the game was released.
In the Evil Public School, a frustrated Doctor Cortex tells his mutants over the intercom that they "can't has cheeseburger" and to stop asking about it, muttering to himself that "it's a stupid meme, anyway". He is referring to the weblog I Can Has Cheezburger?, more specifically, the meme of LOLCats. The blog was created in 2007, making this particular reference relevant at the time.
The name of the cutscene "Crunch Get" is a double reference both to countless cases of poor English adaptations of Japanese games, most noticeably the Japanese version of Super Mario Sunshine with its line "Shine Get", which appears whenever the player collects a Shine Sprite, as well as a general reference to stereotypical "zombie" speech, in which grammar is often thrown out the door for humorous (and occasionally horrific) effect.
The cutscene "Crunch Get!" ends with Dr. N. Brio hitchhiking down a road while sad piano music plays in the background. This is a reference to the television series The Incredible Hulk, in which most episodes would end with Dr. David "Bruce" Banner hitchhiking in a similar manner. This is especially fitting considering N. Brio's tendency to turn into a hulking green monster in most of his appearances.
The cutscenes "I'm Not Your Buddy, Guy" and "I'm Not Your Guy, Friend" are animated in the style of animated television series South Park. Additionally, the names of the cutscenes are derived from an argument between characters Terrance and Philip and Stephen Abootman in the South Park episode "Canada on Strike". Also, Crash and Cortex's appearances in those cutscenes are similar to the Canadians from the same show, which is probably a reference to Radical Entertainment being a Canadian company.
One of the lines said by the Znus includes "Tonight, we dine over there!", a parody of a line shouted out by King Leonidas (played by Gerard Butler) in the film 300 (the original line is "Tonight, we dine in hell!").
Dr. Cortex makes an exceptionally explicit reference to the Star Wars franchise with the following announcement he makes over the Space Head intercom: "Minions, I have detected a disturbance in the Force! This is surprising because I'm not actually a Jedi. It may be gas, but just in case, thought I should mention it."
The cutscenes "Fists of Orange Fury" and "Home Pun" are drawn in the similar style of the Dragon Ball series of manga and anime, particularly Dragon Ball Z, given Crash's hair resembling the series' trademark "Super Saiyan" hairstyle.
The first time Crash and Aku Aku confront N. Gin, he says that Cortex will shower him with presents like "a million Kwanzaas". Kwanzaa is a holiday similar to Hanukkah and Christmas, which involves a week of merriment and cultural celebration, culminating in a gift-giving ceremony. Given Kwanzaa is primarily a phenomenon among Africa-originating cultures, it's unknown why N. Gin defaulted to that particular holiday beyond simply being for the sake of comedy.
One of the Slap-Es says "Curse you Gadget", then corrects himself saying "I mean Crash", which is a line said by Doctor Claw who is the main antagonist of the Inspector Gadget TV Show.
In the Ratcicle Village, the architect's assistant may make two Star Wars references. One for each side of the Force. "If you strike me down... oh, you know the rest." and "Give in to your anger."
In the Ice Prison and Evil Public School, Cortex will sometimes say over the intercom "Minions of Evil Public School, don't forget to submit your evil science fair projects if your want to be considered for the grand prize. This year's winners will receive an Explosive Space Modulator." This is a reference to Looney Tunes, as an Explosive Space Modulator is what Marvin the Martian uses to try and destroy the Earth many times.
Reception
The PS2 and Wii versions of Crash: Mind Over Mutant were met with generally positive reviews. IGN gave the game an overall average of 6.5 and said it was the first good Crash game in awhile but that the camera angle almost ruined the whole package. GamePro gave it 7.5 and said that the game's graphics were excellent and that the game play had overall improved since Crash of the Titans. It also was nominated for Nintendo Power's Best Platformer of the Year award in 2008.
The Xbox 360 version received mixed reviews. Christopher Ewen of GameZone liked the series' transition into a free-roaming gameplay environment, but felt the game was too easy. Matt Casamassina of IGN found it to be like Crash of the Titans. Andy Eddy of TeamXbox liked the strong voice acting, but noted the uninspired gameplay, which was "not very consistent in its fun generation." Justin Calvert of GameSpot claimed the game "has too much backtracking and too many camera problems to make it recommendable." OXM concluded "there's very little about Mind over Mutant [sic] that makes it worth your $50 or the four hours it takes to complete." Eurogamer's Dan Pearson criticized the game's fixed camera, extensive backtracking, useless mission log, and dated concepts. Andrew Reiner of Game Informer proclaimed that the game's "unpredictable framerates, extensive backtracking, and the guarantee of one death caused by faulty camera positioning for every platforming segment" made it "a mess of a game, and a new low point for the once-loved marsupial."
The DS version, however, received negative reviews compared to the console version. Mike David of GameZone said it was the "first really disappointing Crash title", while Neal Ronaghan of NWR felt that the game "leaves much to be desired in terms of depth and level design". Craig Harris of IGN christened the DS version as a "boring, drab, uninspired beat 'em up with none of what made last year's game so good on DS."
Cast
Gallery
See: Crash: Mind Over Mutant/Gallery
Names in other languages
Language
Name
Meaning
Spanish
Crash ¡Guerra al Coco-Maníaco!
Crash: Battle against the Maniacal Boogeyman/Coco!
French
Crash : Génération Mutant
Crash: Mutant Generation
Dutch
Crash: Mind Over Mutant
same as English
German
Crash: Herrscher der Mutanten
Crash: Ruler of the Mutants
Italian
Crash: Il dominio sui mutanti
Crash: Domination Over Mutants
Finnish
Crash: Mind Over Mutant
same as English
Danish
Crash: Mind Over Mutant
same as English
Norwegian
Crash: Mind Over Mutant
same as English
Swedish
Crash: Mind Over Mutant
same as English
Russian
Крэш: Повелитель Мутантов
Krėsh: Povelitelʹ Mutantov
Crash: Lord of the Mutants
Trivia
The game was originally titled Crash: Invasion of the Bandicoot Snatchers early in development.[1][2] This name is a reference to the 1956 horror movie, Invasion of the Body Snatchers.
Before the game came out, the PSP version was supposed to have multiplayer face-offs just like in Crash of the Titans. They are not present in the final version and neither are the areas that were created.
The PlayStation 2 and PSP versions of the game lack of a playable Coco for player 2 due to hardware limitations, as Crash and Coco with multiple enemies on screen, each with their own individual animations would have been too much for the PlayStation 2 and PSP to handle. In these versions, Carbon Crash becomes player 2.
This is the only game in the series to include 2D animated cutscenes.
The drawings in the concept art, as well as those seen inside Crash's house and in the Evil Public School, were drawn by the winners of a contest held by Kidzworld in collaboration with Radical Entertainment. Besides having their drawings included in the game, the winners also received a free copy of the game and appeared in the game's credits.[3]
Originally, the save points used to be blue crystals instead of tiki statues.[4]
Tiny Tiger and Ripper Roo were mentioned in some way: Tiny made no physical appearance but his voice was heard in the credits, and there is unused text in the game's files for a Ripper Roo villager.[5]
This is the final game to feature Chris Williams as Crunch Bandicoot and Amy Gross as Nina Cortex.
Just like Crash of the Titans, this game was also localized into Russian, Finnish, Danish, Swedish and Norwegian.
Crash's Tattoo was redesigned as a cinnamon water flowed pattern on his hands, while Coco does look older and her hair became very light blonde.
References
Community content is available under
CC-BY-SA
unless otherwise noted.