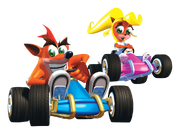 The Classic Kart is the kart model used by all the playable characters in Crash Team Racing. Each character drives in a kart with a distinct color to differentiate them from each other.
The Classic Kart is a basic kart, rimmed with gold or silver pipe-work that holds the body together, although in-game, the pipe-work is in the exact same color as the kart itself. This is merely done to get the game to perform well, as higher-detailed models for the karts, which fo use silver pipe-work, are featured in the Character Select screen for Adventure Mode, as well as cutscenes for the bosses. It also features two large, silver exhaust pipes.
The kart naturally returns in Crash Team Racing Nitro-Fueled, a remake of Crash Team Racing. Unlike in its first appearance, the kart is heavily customizable, as players can choose which body, wheels and colors their kart should use, and can even further decorate them with stickers and body-specific decals. The default set, branded "Classic", also has five new decals, and the game includes fifteen paint jobs that reflect the Classic Kart's original fifteen colors from Crash Team Racing.
The Classic Kart has received some minor changes, appearing as a mixture of the original artwork and the in-game models of Crash Team Racing. While the pipe-work for the karts are in a different color like in the old artwork, the tires are short and wide like in the old models. Additionally, a pentagonal emblem is placed on front of the kart, which is unique to the Nitro-Fueled redesign.
An extra variant known as the Retro Kart appears in the PlayStation 4 version of Crash Team Racing Nitro-Fueled, which appears to be a polygonal version to emulate a nostalgic, retro-like feeling. However, the Classic Kart is only available as eight Kart Sets, separate from the other Kart customization options, with each being colored after the karts from the eight default characters. Despite this, its Retro Wheels can still be applied to any other body.

Kart Parts
These are all the available parts in Crash Team Racing Nitro-Fueled that form the Classic Kart set.
Kart Part

Classic
Kart Body

Classic
Wheels

Retro
Wheels
Unlock Condition
None.
PS4 exclusive.
Decals
| | | | | | |
| --- | --- | --- | --- | --- | --- |
| Decal | Winged Arrows | Blistering Flames | Lightning Dash | Raining Hearts | Mark of Champions |
| Unlock Condition | Earn 1 Relic in Adventure Mode. | Earn 5 Relics in Adventure Mode. | Earn 9 Relics in Adventure Mode. | Purchased via the Pit Stop for 500. | Earn 13 Relics in Adventure Mode. |
Paint Jobs
Gallery
Crash Team Racing
Crash Team Racing Nitro-Fueled
Trivia
The karts in Crash Team Racing actually uses 2D sprites for its wheels that always faces the front and change depending on the camera angle, a technique similarly used for the characters in Mario Kart 64. This trick is being used by the developers to minimize performance issues during races, as the character select screen of Adventure Mode and cutscenes do feature fully-modeled wheels.
See Also
Crash Team Racing
Racers
Crash Bandicoot | Doctor Neo Cortex | Coco Bandicoot | Doctor N. Gin | Tiny Tiger | Dingodile | Polar | Pura | Doctor Nefarious Tropy | Fake Crash | Penta Penguin
Bosses
Ripper Roo | Papu Papu | Komodo Joe | Pinstripe Potoroo | Nitros Oxide
Supporting characters
Aku Aku | Uka Uka | Ami | Isabella | Liz | Megumi
Race tracks

N. Sanity Beach: Crash Cove, Roo's Tubes, Mystery Caves, Sewer Speedway
Gem Stone Valley: Slide Coliseum, Turbo Track, Gem Cups
The Lost Ruins: Coco Park, Tiger Temple, Papu's Pyramid, Dingo Canyon
Glacier Park: Blizzard Bluff, Dragon Mines, Polar Pass, Tiny Arena
Citadel City: N. Gin Labs, Cortex Castle, Hot Air Skyway, Oxide Station

Battle Arenas
Skull Rock | Rampage Ruins | Rocky Road | Nitro Court | The North Bowl | Parking Lot | Lab Basement
Collectibles
Trophies | Crystals | Gems | Relics | CTR Tokens | Keys
Power Ups
Missiles | Bowling Bombs | Warp Orbs | Power Shields | N. Tropy Clocks | N. Brio's Beakers | Turbos | Invisibility | Super Engines | Invincibility Masks (Aku Aku/Uka Uka)
Community content is available under
CC-BY-SA
unless otherwise noted.