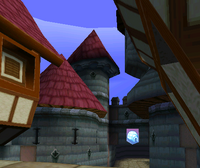 Citadel City
is the fourth hub in
Crash Team Racing
. It is also the final secondary hub world in the game. The boss for Citadel City is
Pinstripe Potoroo
, who can be challenged once all sixteen trophies are collected before the player faces
Nitros Oxide
. This world houses some of the game's hardest tracks.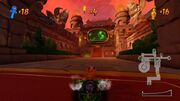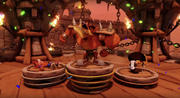 Track Listing
Characteristics
According to the elements from Crash Team Racing Nitro-Fueled, it is possible that architecture of Citadel City is the Cortex Castle which was reformed after the events of in Crash Bandicoot or one of abandoned castles from the medieval era during Crash Bandicoot 3: Warped. Shown by the Dragon on Nitro Court, possibly the castle levels in game Crash Bandicoot: The Wrath of Cortex is part that hub.
In outside, is a medieval castle with towers, hedges, roofs with giant bat statues, chains, spears and cages with chickens trapped. Inside, contains the toxic waste where is the N. Gin Labs, several statues of Neo Cortex and windows with the drawings of Cortex and Uka Uka.
The Pinstripe's 3 blimps fly over the side of the large balcony and Oxide's spaceship on the small balcony.
Gallery
Trivia
At the portal to the Cortex Castle track, surrounding it are stained glass windows with mug shots of the bosses in Crash Bandicoot 3: Warped.
Citadel City is the only hub world in CTR that has one entrance/exit, that being connected to Glacier Park.
It's possible this hub is actually Cortex Castle, as hinted by an airship that could be Cortex's, what looks to be Pinstripe's toxic waste dump, and the stained glass windows with mug shots of the Crash 3 bosses.
Crash Team Racing
Racers
Crash Bandicoot | Doctor Neo Cortex | Coco Bandicoot | Doctor N. Gin | Tiny Tiger | Dingodile | Polar | Pura | Doctor Nefarious Tropy | Fake Crash | Penta Penguin
Bosses
Ripper Roo | Papu Papu | Komodo Joe | Pinstripe Potoroo | Nitros Oxide
Supporting characters
Aku Aku | Uka Uka | Ami | Isabella | Liz | Megumi
Race tracks

N. Sanity Beach: Crash Cove, Roo's Tubes, Mystery Caves, Sewer Speedway
Gem Stone Valley: Slide Coliseum, Turbo Track, Gem Cups
The Lost Ruins: Coco Park, Tiger Temple, Papu's Pyramid, Dingo Canyon
Glacier Park: Blizzard Bluff, Dragon Mines, Polar Pass, Tiny Arena
Citadel City: N. Gin Labs, Cortex Castle, Hot Air Skyway, Oxide Station

Battle Arenas
Skull Rock | Rampage Ruins | Rocky Road | Nitro Court | The North Bowl | Parking Lot | Lab Basement
Collectibles
Trophies | Crystals | Gems | Relics | CTR Tokens | Keys
Power Ups
Missiles | Bowling Bombs | Warp Orbs | Power Shields | N. Tropy Clocks | N. Brio's Beakers | Turbos | Invisibility | Super Engines | Invincibility Masks (Aku Aku/Uka Uka)
Community content is available under
CC-BY-SA
unless otherwise noted.