The
Bouncing Barrel
is a hazard that was first seen in the original
Crash Bandicoot
game. They are normally thrown by
enemies
intended to harm
Crash
. They generally appear as relatively small and brown, with a toxic warning sign painted on.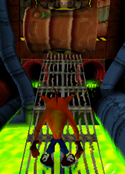 In the first game, the bouncing barrels appeared solely in the level
Toxic Waste
, accompanying the
rolling barrels
. They appeared later on in the level near the end, thrown by
enemies
down pathways and slanted paths. They could be dodged by passing underneath, jumping above, or jumping around.
Whilst avoiding them when bouncing on the regular paths was simple enough (yet notably more difficult than dodging the rolling barrels), dodging them when on the slanted pathways was notably difficult and one of the biggest challenges on the game, requiring pretty much perfect timing.
They first appear with the penultimate enemy, who threw one bouncing barrel after every two rolling barrels. At this point, it was easy enough to avoid continuing up the hill after waiting for the bouncing barrel to pass. However, the final enemy throws just bouncing barrels, making things more difficult.
The Bouncing Barrels appeared in Crash Twinsanity as well, not being seen as a hazard in levels since the original. They appear on the level High Seas Hi-Jinks, thrown by N. Gin's animal minions on his battleship. This time, they are not thrown straight forward, but appear thrown down a sideways hill, before hitting a wall and bouncing down a different hill in the opposite direction. They are larger now, but bounce slower and it is possible to jump up to the second hill pretty easily, making them easier to deal with than they used to be.
The Bouncing Barrels appear in the Crash Bandicoot N. Sane Trilogy remaster of the first game, reprising the role they had in the original version of the the game.
Appearances
Crash Bandicoot N. Sane Trilogy

Crash Bandicoot 2: Cortex Strikes Back
Protagonists
Crash Bandicoot | Aku Aku | Coco Bandicoot | Doctor Nitrus Brio | Polar
Bosses
Ripper Roo | Komodo Brothers | Tiny Tiger | Doctor N. Gin | Doctor Neo Cortex
Items
Crates (Basic Crate, ? Crate, Bounce Crate, Aku Aku Crate, Checkpoint Crate, Crash Crate, Arrow Crate, Locked Crate, TNT Crate, Nitro Crate, Nitro Switch Crate, ! Crate, Iron Crate, Iron Arrow Crate) | Wumpa Fruit | Crystal | Gem
Levels
First Warp Room: Turtle Woods, Snow Go, Hang Eight, The Pits, Crash Dash
Second Warp Room: Snow Biz, Air Crash, Bear It, Crash Crush, The Eel Deal
Third Warp Room: Plant Food, Sewer or Later, Bear Down, Road to Ruin, Un-Bearable
Fourth Warp Room: Hangin' Out, Diggin' It, Cold Hard Crash, Ruination, Bee-Having
Fifth Warp Room: Piston It Away, Rock It, Night Fight, Pack Attack, Spaced Out
Secret Warp Room: Totally Bear, Totally Fly
Enemies
Armadillo | Bee | Cyborg Lizard | Porcupine | Electric Eel | Gorilla | Lab Assistant | Lizard | Mechanical Piranha | Mole | Monkey | Orca | Penguin | Polar Bear | Possum | Rat | Robot Walker | Scrubber | Seal | Sparky Tentaclebot Unit | Spike Rat | Spiked Saucer | Spitter Plant | Tiki | Turtle | Venus Fly Trap

DLC Content
Crash Bandicoot: Stormy Ascent
Crash Bandicoot: Warped: Future Tense
Community content is available under
CC-BY-SA
unless otherwise noted.