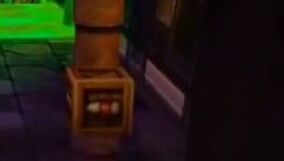 Ammo Crates appear in the Cortex section of Classroom Chaos and in Cortex's airship in Crash Twinsanity. Touching one of these crates breaks it open, and increases Cortex's ammo count by twenty. If one of these crates is broken, another one will reappear in its place after about half a minute, making it quite easy for Cortex's ammo count to reach 99.
It is a crate, similar looking to normal, wooden crates but the only feature that it has a bullet on it, which means that the crate has ammo inside of it.
Community content is available under
CC-BY-SA
unless otherwise noted.